Purple Cow S'mores Ice Cream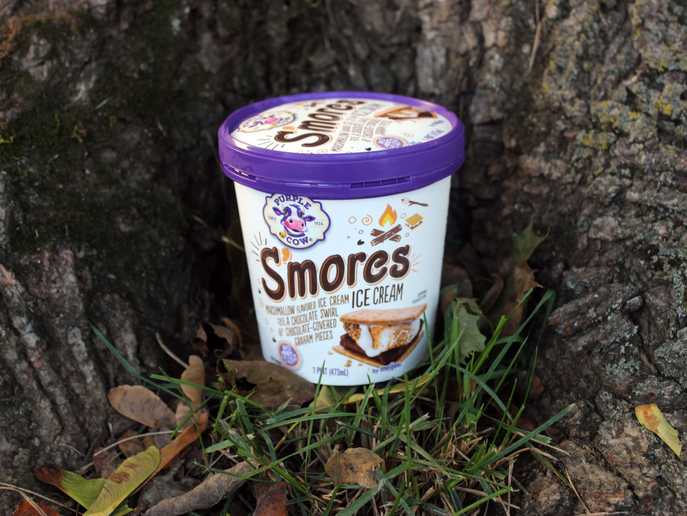 If you have a Meijer in your area, their Purple Cow-branded line of ice creams offers a solid frozen s'mores treat packed with plenty of marshmallow flavor.
The experience
The Purple Cow S'mores flavor ticks all of the boxes for a complete s'mores experience:
Starts with marshmallow-flavored ice cream
Swirls in chocolate fudge
Mixes in chocolate-covered graham chunks
All three elements combine for a delicious, fun, frozen, marshmallowy, chocolatey treat with a bit of crunchy graham texture.
Packed with marshmallow and chocolate
The marshmallow-flavored ice cream base makes marshmallow one of the dominant flavors, and I'm certainly not complaining about that. It's exactly where I'd prefer that any s'mores ice cream would start, though I'd argue that no one has gotten it exactly right.
The swirls and chocolate coating cover a couple s'mores functions, combining to remind me of the actual Hershey's bars that I've added to many a s'more:
Hershey's syrup flavoring matches well with the marshmallow ice cream
Candy bar-like chocolate texture coating the graham pieces
You can't taste much of the graham, but the graham pieces add a pleasnt, crunchy texture.
Overly sweet and no real toastiness
My main complaint about Purple Cow s'mores ice cream is that it's overly sweet. Many marshmallow-flavored treats suffer this problem, and it may be the cost of having a strong marshmallow presence.
Beside graham flavor, this ice cream is missing a toasty effect in its flavor.
Get your just desserts in the Midwest
For my fellow marshmallow- and chocolate-loving Midwesterns, definitely grab a pint of this the next time you're at Meijer. Treat your heart out.
The facts
While we make every effort to provide accurate nutritional and allergen information, we urge you to double-check the product packaging or manufacturer's website before purchase and consumption.
Related
Get s'more reviews like this one in your inbox
You can unsubscribe anytime. We won't share or sell your contact information. Privacy policy