Campfire S'mores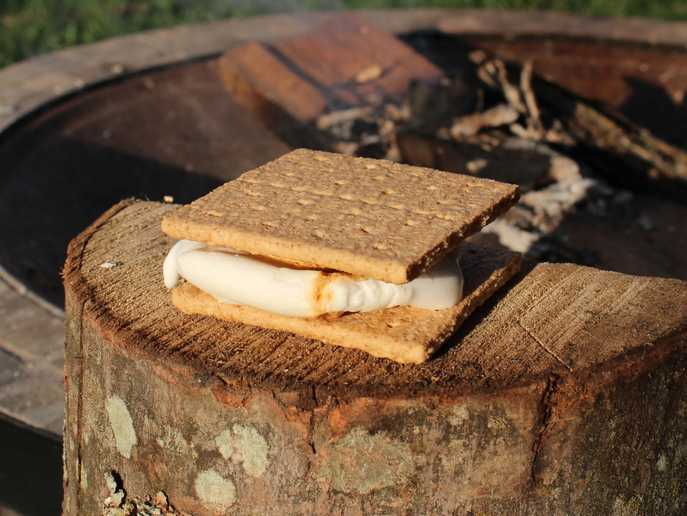 The OG. The classic. How to make s'mores in their natural habitat: around the campfire.
Recipe Card: Campfire S'mores
Ingredients
8 sheets honey graham crackers
2 milk chocolate bars, broken into 8 pieces
8 marshmallows
Instructions
Build a campfire. This could take quite a bit of time depending on supplies available and weather conditions.
Break each sheet of graham crackers into square halves.
Top a graham cracker square with a portion of chocolate bar. Keep another plain graham cracker square handy.
Skewer a marshmallow on a long stick or metal skewer and hold over the heat of the campfire. Toast, turning occasionally, until the marshmallow puffs and turns golden brown. This can take anywhere from 1–5 minutes, depending on your preference and how hot the fire is.
Place the marshallow on top of the graham cracker containing the chocolate piece and, using the remaining plain graham square, squish the marshmallow down and pull off the skewer.
Hold the sandwich together between your fingers for a few seconds and let the heat of the roasted marshmallow melt the chocolate.
Eat while it is warm and gooey and perfect.
Pro tips
There is a lot that you can do with the 3 main ingredients—and swapping in additional ingredients.
Add as many or as few chocolate pieces and/or marshmallows as you'd like.
Swap in different kinds of chocolates, graham crackers, cookies, or marshmallows, depending on your tastes and/or allergy requirements.
Try thin slices of fruit—bananas, berries, etc.
Spread peanut butter, jam, or Nutella on the bottom graham cracker along with—or instead of—the chocolate bar.
Review
S'mores are a traditional American campfire treat with a few key ingredients:
Marshmallow toasted over a campfire
A piece of chocolate bar
All sandwiched between 2 graham cracker squares
Many will suggest that you can substitue the chocolate and graharam crackers with different types of candies and cookies. One thing is clear: the roasted marshmallows are key and the true essence of the treat.
A description of the experience encapsulates everything I love about s'mores: crunchy graham crackers, gooey toasted marshmallow, and warm, slightly-melted chocolate. It's simple to make, contains a variety of textures and sensations, and is delicious.
The s'more is a rich treat enjoyed after a long, hard, physical day full of adventure, activity, friendship, and memories. It is a summer staple and a requirement for virtually any summer bonfire or camping trip.
The history of s'mores seems to point to the Girl Scouts. A description of "Some-mores" are first mentioned in a 1925 newspaper article about a Girl Scout troop leader meeting. A couple years later in 1927, the Girl Scouts published a recipe for "Some More" in a guide called Tramping and Trailing with the Girl Scouts: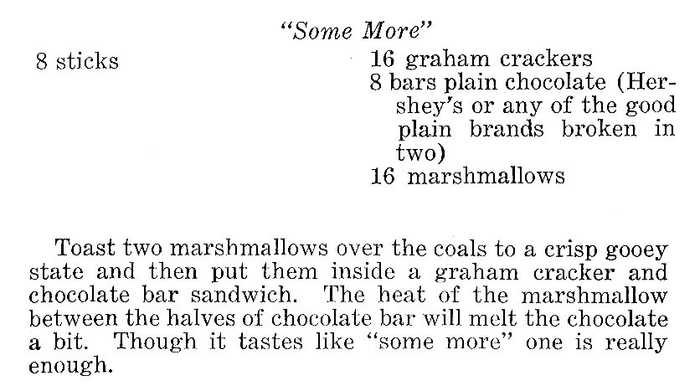 I'm not quite sure about the meaning of that last phrase, "one is really enough." Experts say that the exact meaning of that phrase was lost centuries ago.
Yes, s'mores a little sticky and messy, but that is all part of the experience. Let loose and enjoy.
Children react with joy at the mention of making s'mores, and adults look back at their own childhoods with a sense of nostalgia.
Be warned that you can't eat just one. It's all in the name.
The facts
While we make every effort to provide accurate nutritional and allergen information, we urge you to double-check the ingredients' packaging or manufacturers' websites before purchasing and preparing this recipe.
Get s'more recipes like this one in your inbox
You can unsubscribe anytime. We won't share or sell your contact information. Privacy policy