Crockpot S'mores Brownies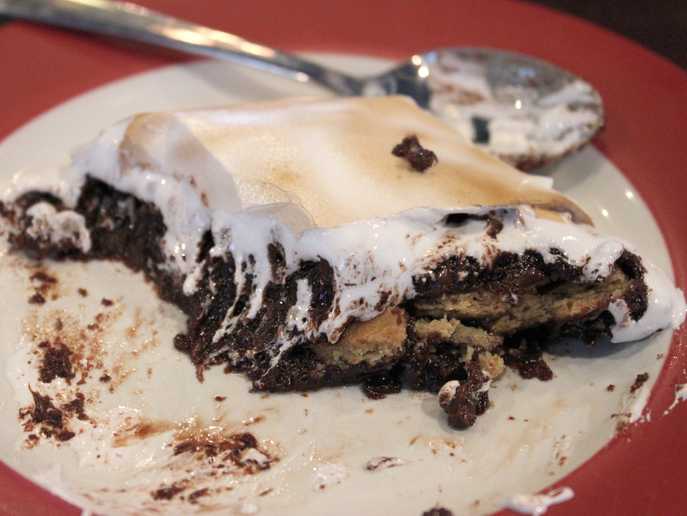 Make a gooey pile of s'mores sludge in your slow cooker, packed full of extra rich chocolate and marshmallow flavor.
Recipe Card: Crockpot S'mores Brownies
Ingredients
⅓ cup semisweet chocolate chips
10 tablespoons butter
2 large eggs
1 teaspoon vanilla extract
1¼ cups sugar
3 tablespoons unsweetened cocoa powder
¼ teaspoon salt
¾ cup all-purpose flour
16–18 individual graham crackers
2 cups milk chocolate chips
2 cups marshmallow fluff
Instructions
Line a Crockpot with aluminum foil.
In a small saucepan over medium heat or a microwave, melt the chocolate and butter until smooth. Allow to cool slightly.
In a separate bowl, beat the eggs, vanilla, and sugar. Slowly add in the chocolate mixture until well combined.
In a small bowl, sift together the cocoa, salt, and flour. Add the mixture to the rest of the batter. Do not overmix.
Pour half of the batter into the foil-lined Crockpot. Top with whole graham crackers, breaking and piecing together at the edges as needed to fully cover the brownie batter.
Sprinkle chocolate chips on top of the graham crackers, then top with the remaining brownie batter.
Put a lid on the Crockpot and cook on low for 1½ hours. The tops will look undercooked, but a tug on the foil will help determine doneness.
If the brownies lift easily without buckling, remove from the Crockpot and allow to cool. If they buckle, allow to back for another 15 minutes, checking again until ready to remove.
Pro tips
Be prepared for this recipe to take longer to bake than anticipated. I let it cook for the 1½ hours specified in the recipe, and they weren't done after that.
I kept them cooking and checked every 15 minutes for an additional hour, and they still weren't fully cooked.
Review
Everything came together nicely with this recipe except for the Crockpot part of its namesake. After cooking the batter for 2½ hours on low (an hour past the recipe), it still buckled when lifting out of the Crockpot.
You could say that it took s'morever.
As with everything from The S'mores Cookbook, the batter recipe was top-notch.
What came out of the slow cooker tasted great, though overly rich. The chocolate and marshmallow flavors are there. The graham flavor and texture was largely absent, which makes me wonder if there could be another layer perhaps on the bottom.
There's no way I would be able to eat more than one of these brownies in a sitting. But is that really such a bad thing?
Because it wasn't fully cooked, the texture was very much that of a pile of sludge. A rich, delicious pile of sludge.
It is tempting to give this a shot in the oven instead. Or maybe the Crockpot should be fired up to an aggressive medium setting. I may have to give this one a revisit because I really don't want to give up hope on it!
Get the cookbook
I discovered this recipe in the excellent The S'mores Cookbook by Susan Moss. Everything we've tried from it has been from-scratch delicious, and I've become a better baker because of it.
We'll call Susan the S'mores Fairy Godmother.
The facts
While we make every effort to provide accurate nutritional and allergen information, we urge you to double-check the ingredients' packaging or manufacturers' websites before purchasing and preparing this recipe.
Related
Get s'more recipes like this one in your inbox
You can unsubscribe anytime. We won't share or sell your contact information. Privacy policy