S'mores Cupcakes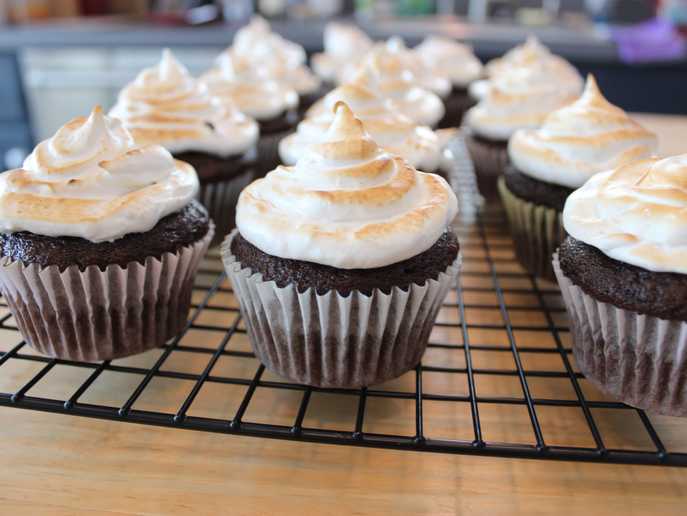 This recipe gets s'many things right: the most delicious chocolate cupcake recipe I've ever tasted, topped with a heavenly marshmallow frosting.
Recipe Card: S'mores Cupcakes
Ingredients
1 teaspoon baking soda
1 teaspoon baking powder
¾ teaspoon salt
1½ cups all-purpose flour
¼ cup graham cracker crumbs
½ cup unsweetened cocoa powder
1½ cups sugar
⅓ cup vegetable oil
2 teaspoons vanilla extract
⅔ cup milk
2 eggs
⅔ cup boiling water
1 recipe marshmallow frosting
Instructions
Preheat oven to 350° F.
Prepare cupcake tins with cupcake liners. Set aside.
Stir baking soda, baking powder, salt, flour, graham cracker crumbs, cocoa powder, and sugar together in a large mixing bowl.
Add the oil, vanilla, milk, and eggs. Beat on medium speed for 2 minutes.
Stir in the boiling water to make a thin batter.
Pour batter evenly into prepared liners.
Bake 18–20 minutes or until an inserted toothpick comes out clean. Cool for 10 minutes in the tins or until completely cool.
Pipe or spread marshmallow frosting on top of each cupcake.
Pro tips
There are so many fun ways to top these:
Sprinkle more graham cracker bits on top to add more graham flavor and crunch.
Garnish with mini chocolate chips or chocolate shavings.
Wedge in a piece of graham cracker and a piece of chocolate bar.
For an extra s'moresy effect, use a chef's torch to lightly toast the marshmallow frosting after piping onto the cupcakes. Be ready to blow out any peaks that catch fire!
Review
If you're looking to roll up your sleeves and make a from-scratch, s'morespired treat, this s'mores cupcakes recipe is an absolute winner.
Best for chocolate and marshmallow
I kid you not that this is the best chocolate cake I've ever made on my own. The recipe absolutely nails it with the right amount of sweetness and cocoa.
And the marshmallow frosting! It comes out as a light, airy, sweet, fluff-like marshmallow that makes me emotional just typing about it. It's that good.
Using a chef's torch on the frosting after topping the cupcakes added that perfect campfire-inspired touch with a hint of the toasty flavor that we s'moresaholics all desire. The entire kitchen smelled like toasted marshmallows.
Weak on the graham
There is one drawback though: this recipe isn't quite grahammatical. There is no detectable graham flavor.
We even tried doubling the amount of graham crumbs in a second attempt at the recipe, but still no graham flave.
The next time I make it, I'll probably wedge some graham cracker and chocolate bar pieces into the frosting after toasting it. I'm sure that will provide a playful element of being able to scoop off some of the frosting and have a mini s'more along with the cupcake.
Get the cookbook
I discovered this recipe in the excellent The S'mores Cookbook by Susan Moss. Everything we've tried from it has been spot-on.
I cannot recommend this book enough if you're looking to expand your baking skills while also getting your s'mores fix.
DISCLOSURE: S'more Scout receives a commission from some third party websites if you decide to make a purchase through one of our "Buy" links. This happens at no additional cost to you.
The facts
While we make every effort to provide accurate nutritional and allergen information, we urge you to double-check the ingredients' packaging or manufacturers' websites before purchasing and preparing this recipe.
Related
Get s'more recipes like this one in your inbox
You can unsubscribe anytime. We won't share or sell your contact information. Privacy policy