S'mores Stuffed Cookies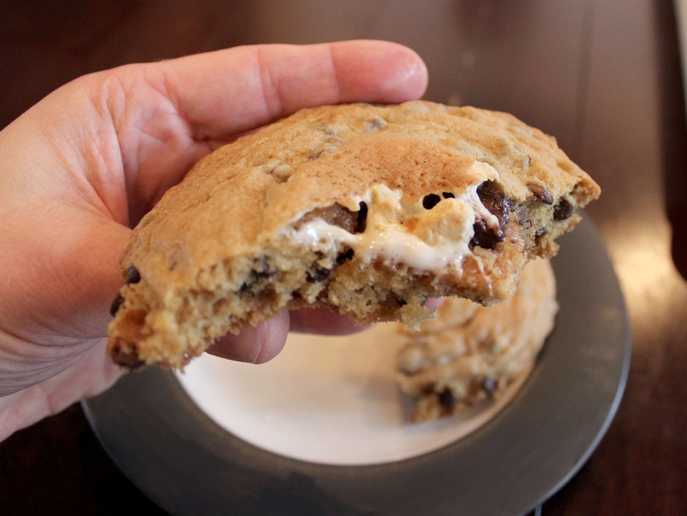 Make your own top-notch chocolate chip cookies stuffed with a hint of s'mores. It's perfect especially for chocolate lovers.
Recipe Card: S'mores Stuffed Cookies
Ingredients
1 ⅓ cups salted butter, softened
1 cup sugar
1 cup light brown sugar, packed
3 eggs
2 tsp vanilla extract
3 ½ cups all-purpose flour
1 ½ tsp baking soda
¾ tsp salt
3 ½ cups semi-sweet chocolate chips
24 regular-sized marshmallows, cut in half
6 1.55-oz Hershey's milk chocolate bars, broken into pieces
1 sleeve honey gram crackers, broken into pieces
Instructions
Preheat the oven to 375 degrees. Line two large baking sheets with parchment paper. Set aside.
In a large bowl, combine butter, sugar, and brown sugar with a hand mixer until creamy. Add eggs and vanilla. Beat until combined and fluffy.
In another large bowl, add flour, baking soda, and salt. Whisk together.
Slowly add dry ingredients to butter mixture. Beat together until well combined.
Add chocolate chips and use a large spoon to gently combine.
Refrigerate cookie dough while preparing the s'mores ingredients.
Cut marshmallows in half. Break chocolate bars into rectangles, and then break the rectangles into smaller pieces. Break graham crackers into rectangles, and then into smaller pieces. You want everything to be small so it will fit into a cookie ball and not be too tall right in the middle of the cookie.
Scoop up about 3 tbsp cookie dough and flatten into a round circle. Layer graham cracker pieces, chocolate bar pieces, and the marshmallow on top. Add another 3 tbsp flattened piece of cookie dough to the top and form into a ball. Repeat steps making sure to space cookies out about 2 inches from each other.
Place the baking sheet with un-baked s'mores cookies in the refrigerator for 15–20 minutes before baking. Remove from the refrigerator and place immediately in the oven.
Bake at 375 degrees for 9-11 minutes, or until the marshmallow in the middle is melted and the cookie is starting to turn golden brown.
Remove from the oven and let sit 2–3 minutes before serving.
Pro tips
Don't be shy with really stuffing in the marshmallows, chocolate pieces, and graham cracker bits. Go big or go home!
Refrigerating the dough before adding the s'mores pieces is key for being able to shape each cookie into ball that will spread uniformly. Consider refrigerating for a few minutes after shaping the balls if you have some extra time.
Using milk-free or vegan alternatives to the ingredients yields a great-tasting result as well.
Review
This is a recipe for from-scratch chocolate chip cookies, leveled-up to s'mores status with some extra ingredients (and love ❤️).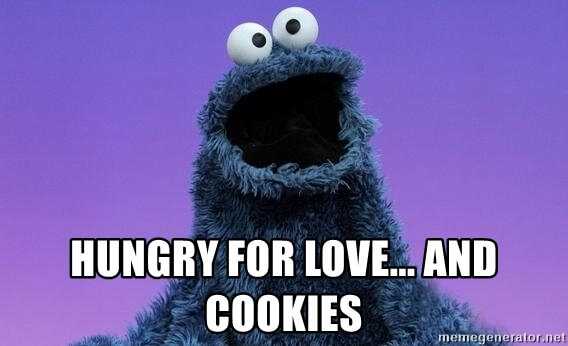 The chocolate chip cookies on their own are absolutely phenonenal. We had recently tried a recipe for a giant s'mores stuffed chocolate chip skillet cookie, which had its issues with the base cookie. Twice as much sugar and butter in this recipe certainly did the trick in alleviating the chocolate chip cookie woes.
The problem with this recipe enters when we judge it on The Merit of the S'more™. I could barely taste any marshmallow, and I couldn't taste any graham cracker. The marshmallow only added a small chewy texture here and there.
The chocolate flavor of this recipe is off-the-charts good and is definitely the dominant flavor. Chocolate lovers rejoice!
Due to my family's dietary restrictions, we made these milk-free, and it was by far the best-tasting milk-free chocolate chip cookie recipe we've made to date. I'd imagine that the milked-up version is even better.
As with any from-scratch recipe, this one takes some effort and time. Be sure to have a couple hours set aside if you're a baking n00b like me.
Hat tip to Jennifer Fishkind for this great s'mores cookies recipe.
The facts
While we make every effort to provide accurate nutritional and allergen information, we urge you to double-check the ingredients' packaging or manufacturers' websites before purchasing and preparing this recipe.
Related
Get s'more recipes like this one in your inbox
You can unsubscribe anytime. We won't share or sell your contact information. Privacy policy