Graeter's S'mores French Pot Ice Cream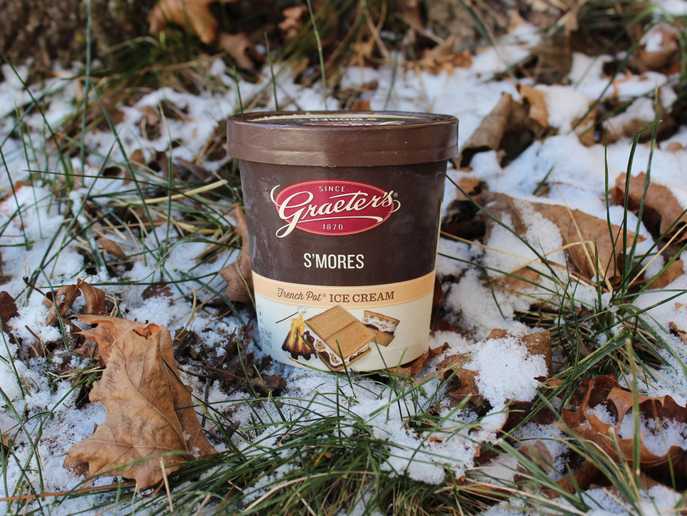 Graeter's has done it. They've found the right mix of chocolate, marshmallow, and graham in the elusive quest for the perfect s'mores ice cream.
The experience
This one has everything going for it:
Smooth, creamy graham-flavored ice cream
Milk chocolate chunks of varying sizes
Fluffy marshmallows
Cincinnati-based Graeter's boasts a small-batch approach to ice cream production (2 ½ gallons at a time) in French Pot freezers. It seems to make a difference. Yum!
Strengths: everything
This may be the first s'mores ice cream that I've tried with graham-flavored ice cream. It provides a great base for the other flavors to shine—much like the role of graham crackers in a real s'mores. (They're so selfless, sharing the spotlight like that.)
Graeter's is known for its well-endowed chocolate chunks, and you get the full treatment with this S'mores French Pot flavor. Some bites contain chocolate chip-sized milk chocolate chunks, and others are more like eating golf ball-sized hail.
And the marshmallows. They are done well. They are fluffy and firm enough to stand up to the thick ice cream. They add just the right texture.
Weakness: where I nitpick graham crackers
If I had to choose one weakness, it would be a slightly shy graham flavor. I'm not even sure if I'd like it if they cranked it up though. It's doing its job, and I'm not complaining.
Usually the graham cracker is a way to add some crispy texture to the ice cream too.
OK, I'll shut up about graham crackers now. It's such a minor point.
Get this ice cream in your belly
I've silently been musing that Ben & Jerry's needs to start with their Phish Food flavor and modify it slightly from there to make a better s'mores flavor. It looks like Graeter's has done that for them, so no need.
This is one of the best s'mores ice creams in existence. (Dare I say, up there with the DQ S'more Galore parfait?)
If you run across Graeter's S'mores French Pot ice cream in your grocery's freezer, give it a shot.
The facts
While we make every effort to provide accurate nutritional and allergen information, we urge you to double-check the product packaging or manufacturer's website before purchase and consumption.
Related
Get s'more reviews like this one in your inbox
You can unsubscribe anytime. We won't share or sell your contact information. Privacy policy