Dairy Queen S'mores Blizzard Treat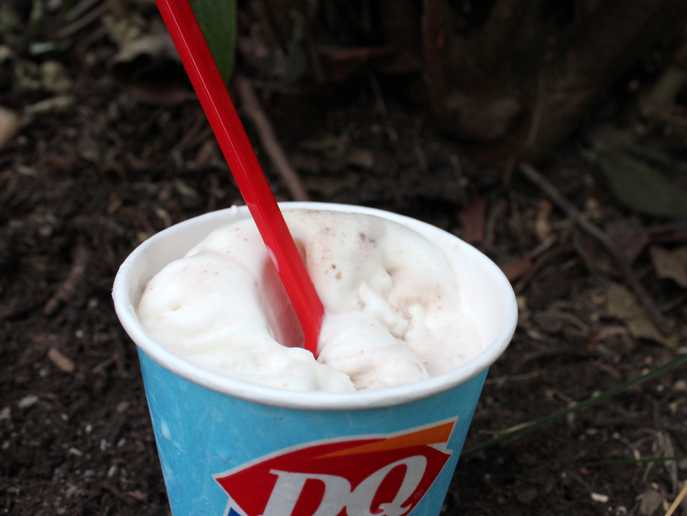 Once again, DQ's lineup of summer Blizzard treats rightfully includes a s'mores flavor. This long-running Blizzard staple offers an awful s'mores experience, making me pine for the glory days of the late S'more Galore Parfait (RIP).
Is the DQ S'mores Blizzard on the menu right now?
DQ has announced that due to popular demand, the S'mores Blizzard was the Blizzard of the Month for April 2023.
They now list the S'mores Blizzard on the menu for summer 2023 as well.
The experience
Take your standard-issue DQ Blizzard cup and add these elements:
Vanilla soft serve
Marshmallow sauce
Graham cracker dust
Tiny chocolate bars filled with a weird marshmallow center
That last ingredient is what we go to Dairy Queen for, right? Who doesn't love candy in their ice cream?
Strength: my lucky first bite
I love vanilla soft serve, and DQ's provides an excellent base for this treat. The first bite I had only contained the soft serve dairy treat (which we're technically not allowed to call ice cream), marshmallow sauce, and a dusting of graham cracker crumbs. It was pleasantly vanilla-y with a hint of graham cracker and marshmallow.
I've had this treat several times over the past few years with many memories of regret, and this first bite made me question if DQ had made some changes to improve it. I felt hopeful.
So the soft serve, marshmallow sauce, and graham cracker ingredients created some win for the Monarch of Milk.
After finishing this indulgence, I felt the "ice cream niceness": a swirl of sugar rush without the hassle of chewing anything.
Weakness: disgusting candy
Later in the journey, I ran across the little weird candy bars. They add some nice variety to the texture, and the chocolate tastes OK.
If we're honest with ourselves, that's the sentiment that the Hershey's chocolate in a traditional s'mores would evoke if a hot marshmallow didn't pitch in and start melting the thing. (Marshmallows are the true heroes in the s'mores kingdom.)
But then this awful aftertaste kicked in. I'm certain that it's the chocolate + weird marshmallow candy bars that contributed to a too-sweet weirdness in my mouth.
It's like everyone was invited to the party, but half of the guests ended up vomiting all over the place. (And the more I learn about the things living in our mouths, the more true that statement feels.)
I don't like how it makes me feel
I remember an old coworker imparting wisdom like this on me:
In the long run, it won't matter what you did for someone. How you made them feel will be what matters.
After ravaging a S'mores Blizzard like a starving lion, I never feel good about my decision.
My tooth is just about as sweet as one can get, so it's pretty bad when I'm the one saying that something is overwhelmingly sweet.
Now that all of this is off my my chest, we should take a moment in remembrance of the DQ S'more Galore Parfait. It was heavenly, and ole Farty Queen robbed humanity of a true gift when they removed this treasure from their menu. The S'mores Blizzard is at best the substitute teacher of the Dairy Queen world.
The facts
While we make every effort to provide accurate nutritional and allergen information, we urge you to double-check the product packaging or manufacturer's website before purchase and consumption.
Related
Get s'more reviews like this one in your inbox
You can unsubscribe anytime. We won't share or sell your contact information. Privacy policy