Dairy Queen S'mores Shake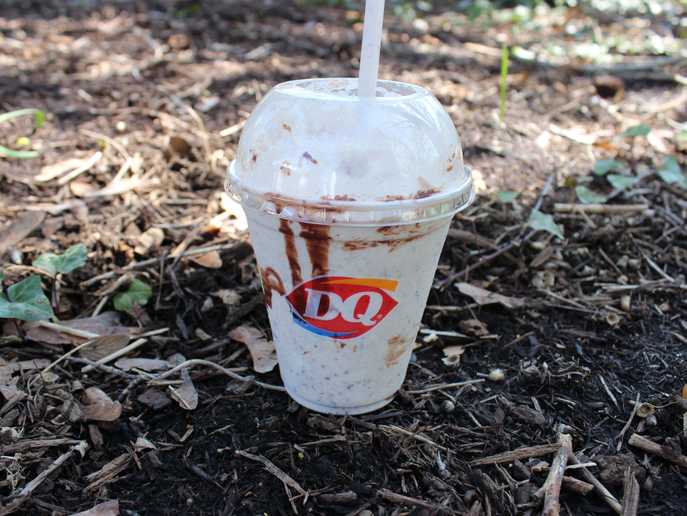 While many are sad about the disappearance of the S'mores Blizzard, the Dairy Queen has redeemed herself with the release of the far superior S'mores Shake.
The experience
According to the ingredients list from our friends at DQ, the new S'mores Shake features these elements:
Vanilla soft serve
Whipped topping
Marshmallow sauce
Graham base
Chocolate-flavored cone coating
I must admit that this was the first time I'd ever experienced Dairy Queen in milkshake form. It was every bit as delicious as I had expected it to be.
Strengths: graham base and choco
When I think about s'mores, marshmallow is where it's at, 100%. In my mind, chocolate and graham are more like supporting actors.
But in this particular treat, the chocolate shavings and "graham base" bring new heights of delight. The shake has a nice texture and requires a good chew. It tastes delectable.
I'd imagine that these descriptions of graham base give voice to the experience better than I ever could:
bigtimehomo24:
I just say it's the love of my life. That stuff is sooooo good, got no business being that delicious.
mrhairybolo:
1% graham cracker 99% butter
[deleted]:
Graham cracker with alot of butter
And the chocolate is just goooood all around.
Weakness: sissy marshmallow
When a s'mores treat has vanilla flavoring somewhere in the mix, it's already on its way toward passing the marshmallw test. DQ's vanilla soft serve hits right in this area.
Unfortunately, DQ's promise of marshmallow sauce fell flat in the shake that I sampled. Everything is so good about this shake, but there's just not enough marshmallow flavor to earn a perfect s'core.
Put the S'mores Shake in the "win" column for our Milky Lady
After the passing of the poorly-executed (but somehow much-loved) S'mores Blizzard, the S'mores Shake is a major correction. The chocolate shavings and graham base make a winning team. And even with the lack of marshmallow kick, this more than makes up for the attrocity of the Blizzard.
It's no S'more Galore Parfait, mind you, but we plebeians will take what we can from dairy royalty these days.
The facts
While we make every effort to provide accurate nutritional and allergen information, we urge you to double-check the product packaging or manufacturer's website before purchase and consumption.
Related
Get s'more reviews like this one in your inbox
You can unsubscribe anytime. We won't share or sell your contact information. Privacy policy