Duncan Hines EPIC S'mores Brownie Kit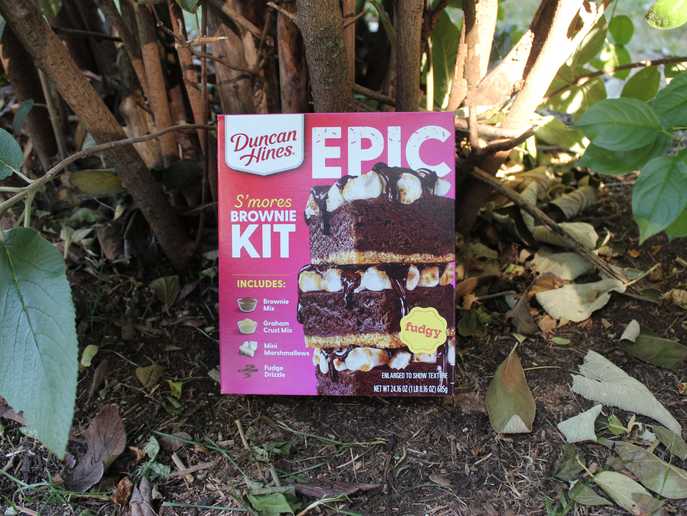 Want a little something-something extra with your standard boxed brownie mix? Duncan Hines gives you a little s'more.
The Duncan Hines EPIC S'mores Brownie Kit takes you on a hero's journey through the land of campfires and brownies.
This epic dessert odyssey contains the following stops on the way to its destination:
Standard Duncan Hines chocolate brownie
Crispy, buttery graham cracker crust on bottom
Toasted marshmallows on top
Chocolate sauce drizzled on top
So how does the grandiose brownie tour of s'mores fair?
Strengths: easy to make, loaded with chocolate
This is primarily a mix for chocolate brownies with a little extra s'mores stuff to add on. It's your standard Duncan Hines mix.
The chocolate owns the marshmallow and graham and demotes them to the role of extra texture.
To top it off, you finish preparations by drizzling an included chocolate syrup over the top.
I was raised on baking mixes, so I enjoyed this epic treat.
On that note, there weren't any significant challenges preparing the brownies. We've done our fair share of putzing around the kitchen, and it was nice to have everything all measured out and ready to dump into the mixing bowl.
Weaknesses: loaded with chocolate
This odyssian kit includes mini marshmallows to sprinkle on top and toast during the final 2–4 minutes of baking. The toasted marshmallows induce mouth watering but are reduced to merely a chewy texture on top due to the Herculean strength of the chocolate brownie and chocolate sauce.
The base of the brownie treat is a crispy, buttery graham cracker crust. Again, it adds a little crunch, but I couldn't taste it at all.
A rich brownie dessert
You'll spend a little extra on the Duncan Hines EPIC S'mores Brownie Kit. In return, you'll get a rich, chocolately treat. It's so rich that it may even buy you a car.
Despite its flaws in the marshmallow and graham departments, I still enjoyed it and believe that it will brighten up your next dessert or picnic get-together.
The facts
While we make every effort to provide accurate nutritional and allergen information, we urge you to double-check the product packaging or manufacturer's website before purchase and consumption.
Related
Get s'more reviews like this one in your inbox
You can unsubscribe anytime. We won't share or sell your contact information. Privacy policy