Sonic Toasted S'mores Shake
Updated
Rating:

Discontinued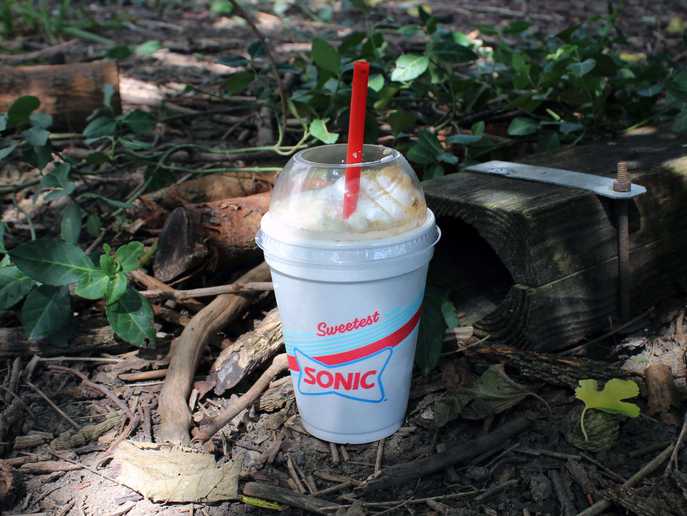 Sonic's seasonal s'mores milkshake is everything that you would want from a cool summer treat. Get it to go while it's still on the menu.
Is the Sonic Toasted S'mores Shake on the menu right now?
Sonic has not had the Toasted S'mores Shake on the menu since August 2020. There is no indication that it will be added back this year.
The s'perience
Sonic's Toasted S'mores Shake is deliciously simple:
Vanilla milkshake
Chocolate bits mixed in
Graham cracker bits mixed in
Topped with marshmallow whip and graham cracker dust
The large dallop of marshmallow whip on top gives this treat all of its s'mores appeal. The graham cracker dust gives it a "toasted" look like its namesake.
What happens when you drink it in from the comfort of your car?
Strength: the champion of modern s'mores-flavored cooldowns
I enjoyed every sip of the Toasted S'mores Shake. It is cool and refreshing, and it doesn't stray far from being a vanilla shake with a "little extra something."
It balances the 3 s'mores flavors without being sickeningly sweet like the DQ S'mores Blizzard.
The marshmallow whip on top invokes is the most intriguing, and it does not disappoint. It tastes like a light, airy marshmallow fluff. It is best marshmallow flavor that I've tasted in any of the available ice cream s'mores treats.
The mixed in chocolate and graham cracker bits round out the s'mores flavor. They add a nice texture, something to chew on. The chocolate tastes like a traditional ice cream cone dip—darker than milk chocolate—and it adds a nice cocoa flavor.
Weakness: just a bit too much
I give the shake 5 stars overall, but it went a smidge too far with flavor in my opinion. There must be something about the sweet marshmallow flavor that leaves a strong aftertaste with all of these ice cream-based s'mores treats.
Also, I could taste quite a bit of graham flavor within the shake, but it seemed like there could be a little more. Your mileage may vary on how much gets mixed into your shake. (This is a fast food establishment after all.)
Get it through your driver's side window while it's around
The 2020 edition of the Sonic Toasted S'mores Shake won't be around for long, so get it while you can. It will be on the menu through August 30.
The facts
While we make every effort to provide accurate nutritional and allergen information, we urge you to double-check the product packaging or manufacturer's website before purchase and consumption.
Related
Get s'more reviews like this one in your inbox
You can unsubscribe anytime. We won't share or sell your contact information. Privacy policy