Marshmallow Frosting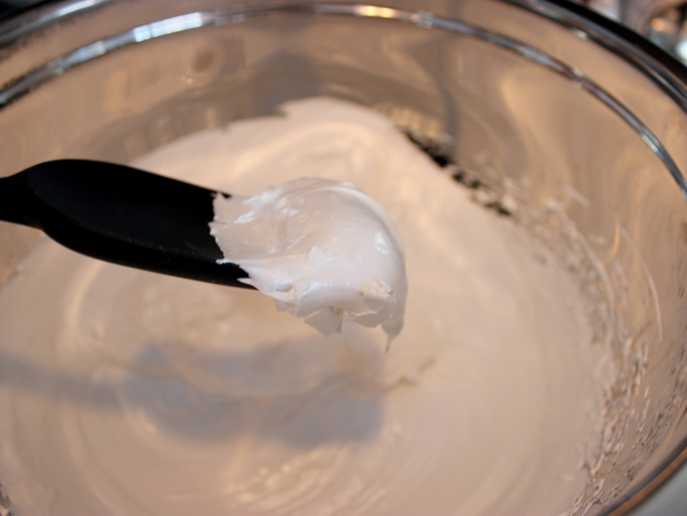 A light, fluffy, heavenly marshmallow frosting: a versatile ingredient for many a masterful s'mores dessert recipe.
Recipe Card: Marshmallow Frosting
Ingredients
3 egg whites
1¾ cups granulated sugar
⅓ cup water
2 teaspoons light corn syrup
2 teaspoons vanilla extract
1½ cups miniature marshmallows
Instructions
Fill about 3" of water in a very large pot and bring to a high simmer.
Place egg whites, sugar, water, and light corn syrup in a metal bowl fitted over the pot of simmering water.
Beat constantly with an electric mixer while over the boiling water until stiff peaks form, about 8–15 minutes. Remove from heat.
Fold in the vanilla and mini marshmallows. Beat with the mixer on high until the marshmallows melt.
Use as desired.
Pro tips
For an extra s'moresy feel, use a chef's torch to add a toasty effect after piping this frosting on cake or cupcakes.
Review
Marshmallow is everything.
Imagine marshmallow fluff, but add even more fluff. It's the fluffiest fluff this side of Flufftown. This recipe produces an exceptional topping for many desserts or dippables.
Warning: it's hard not to eat the entire batch with a spatula after you're done mixing this one up.
Fire up a chef's torch to add an extra toasty campfire effect (and fun).
While this marshmalllow frosting recipe involves a few extra steps, it is well worth the effort. Easily the favorite dessert element I've ever produced.
Trouble in marshmallow town
This recipe was truly a journey for me.
The first time, I didn't use enough heat for the boiling water and didn't have a good electric mixer. The yield tasted OK but was similar in texture to the toothpaste at the dentist's office.
The second try, I shattered a glass bowl over the boiling water. I suggest using a metal mixing bowl.
Third time was a charm! Hopefully you'll have an easier time than I did.
I discovered this recipe in the excellent The S'mores Cookbook by Susan Moss. I strongly recommend this book if you're looking to expand your s'mores baking skills.
I can't wait to share s'more recipes using this key ingredient with you.
DISCLOSURE: S'more Scout receives a commission from some third party websites if you decide to make a purchase through one of our "Buy" links. This happens at no additional cost to you.
The facts
While we make every effort to provide accurate nutritional and allergen information, we urge you to double-check the ingredients' packaging or manufacturers' websites before purchasing and preparing this recipe.
Get s'more recipes like this one in your inbox
You can unsubscribe anytime. We won't share or sell your contact information. Privacy policy