Kellogg's Smorz Cereal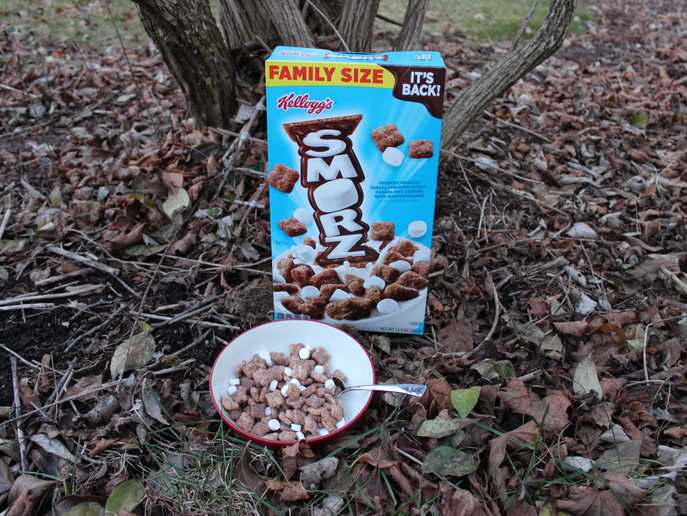 Kellogg's Smorz cereal is back (again). Is it worth all of the flip-flopping and drama? You bet your sweet graham sandwich!
Faithful lovers said goodbye to Smorz in 2013. Then they said goodbye again in 2019. Now Kellogg's Smorz is back, strutting around like nothing happened.
Is it worth all of the drama? I believe that we should invite Kellogg's back into our sweet embrace—and gladly.
The experience
There are other s'mores cereals in town from Malt-O-Meal and Post. They are nearly identical to each other, and the same parent company owns both.
Kellogg's Smorz offers something different:
pillow-shaped, graham-flavored corn puff cereal
coated in chocolate and marshmallow flavoring
Lucky Charms-style cereal marshmallows
Strengths: just about everything
Overall, I can understand why so many fans have declared this to be their favorite cereal of all time. This cereal strikes a great balance between the graham, chocolate, and marshmallow flavors.
The crispy puff cereal definitely has a graham flavor to it and provides a nice base. Check ✅
The puffs are coated in chocolate sparingly, very similar to the chocolate and peanut butter coating on Reese's Puffs cereal (another all-time cereal great). While it's nearly impossible to taste and chocolate in the other s'mores cereals, you can definitely taste it in Smorz.
The little white cyndrilical cereal marshmallows add the same element of fun that it does for the Malt-O-Meal and Post cereals. The overall appearance of the cereal with the little marshmallows makes me imagine the real thing.
Wife Scout and I both swear that we can taste some marshmallow in the mix along with the chocolate coating, and a whiff of the box of cereal smells like there is something marshmallowy happening beyond the little marshmallows.
Weakness: weaker graham
The graham-flavored cereal is nice, but the flavor is not as prominent as in the other s'mores cereals. Overall, Smorz has a sweeter taste, compared to the toastier flavors of the others.
In this world of limited-edition s'mores-flavored products, I have learned to not take take anything for granted. Let's enjoy this one while it's still around.
Let's take a poll on how long we think it'll remain on shelves!
The facts
While we make every effort to provide accurate nutritional and allergen information, we urge you to double-check the product packaging or manufacturer's website before purchase and consumption.
Related
Get s'more reviews like this one in your inbox
You can unsubscribe anytime. We won't share or sell your contact information. Privacy policy