Malt-O-Meal S'mores Cereal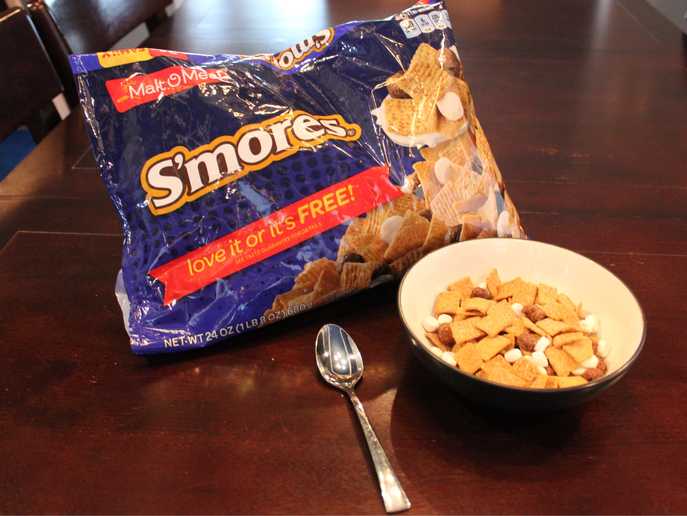 Malt-O-Meal has created the king of s'mores cereals. Not only is it on par with Post's non-discount boxed version, it also does not become helplessly soggy after 60 seconds spent submerged in milk.
As a sugary breakfast cereal, I would gladly give this product 5 stars. It's amazingly delicious, and I would eat it every single day if healthfulness were not a concern.
But alas, I am also judging through the monocle of how well this cereal mimics the experience of eating actual s'mores. From that point of view, there is one major weakness in the balance of the s'mores.
The experience
This is a breakfast cereal with the fun dial turned up to 11. The fun shapes fuel the imagination: when you look at it in the bowl, you want for this cereal to taste just like s'mores.
The main ingredient consists of Golden Grahams-style square graham-favored pieces with some extra sugar sprinkled on.
The little marshmallows are your standard Lucky Charms-style cereal marshmallows. They are hard and dense when dry and become a little mushier after they soak in some milk.
Lastly, there are some Cocoa Puff-style chocolate balls mixed in.
Strengths: graham cracker and marshmallow goodness
The graham cracker-flavored cereal pieces dominate the flavor and taste great. Unlike the Post Honey Maid version of this cereal, the graham cracker pieces withstand sogginess and stay fairly firm, even after being in milk for a short while. (They must have used a little non-nutritive cereal varnish. Clever indeed.) After a few minutes, they become a little soft like Cinnamon Toast Crunch though.
Just about the best part of the experience is the sweetened sugar milk left behind at the end, which mostly contains the graham cracker flavor. It warms the soul like a camp fire on an autumn evening.
The cyndrilical shape of the little white marshmallows is super fun and brings me straight back to the campfire with a bag of Jet Puffed.
Weakness: where's the chocolate?
Surprisingly, the chocolate flavor is absolutely weak. Most s'mores products get the chocolate part right, but Malt-O-Meal wanted to be different, I guess.
Even though I compared the chocolate pieces to Cocoa Puffs earlier, I think it's more accurate to compare them to Kix: flavorless corn balls.
If you're mainly a fan of marshmallow or graham cracker, you'll be OK with this. Better balance in the flavors would have earned this a coveted 5-star rating however.
Tip for parents: expect hungry kids
Our 2- and 4-year-olds absolutely love it when we have s'mores cereal in the house. Unfortunately, they tend to mainly eat the marshmallows and chocolate pieces, leaving much of the graham cracker behind.
If you notice similar behavior with your children, consider introducing this as the occasional treat rather than an expectation.
Or perhaps you're a 39-year-old child like me and want to eat it every day. In that case, carry on, my friend. More power to you. Salute!
The facts
While we make every effort to provide accurate nutritional and allergen information, we urge you to double-check the product packaging or manufacturer's website before purchase and consumption.
Related
Get s'more reviews like this one in your inbox
You can unsubscribe anytime. We won't share or sell your contact information. Privacy policy