Golden Grahams & Cocoa Puffs S'mores Cereal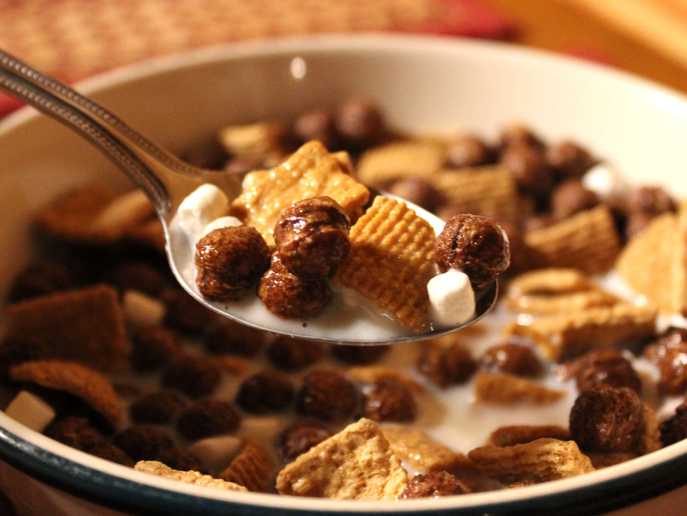 Want a toastier, darker, cocoa-ier s'mores cereal? Make your own mix with Golden Grahams, Cocoa Puffs, and dehydrated cereal marshmallows.
Recipe Card: Golden Grahams & Cocoa Puffs S'mores Cereal
Ingredients
11.7 oz box of Golden Grahams cereal
10.4 oz box of Cocoa Puffs cereal
1 ¼ cup (2 oz) vanilla dehydrated marshmallow bits
Instructions
Pour a layer of ⅓ box of Golden Grahams into cereal container.
Pour a layer of ⅓ box of Cocoa Puffs into cereal container.
Pour a layer of marshmallow bits on top (approximately ½ cup), covering cereal layers.
Mix ingredients together with hands.
Repeat steps 1–4 twice more, mixing each triple layer of ingredients after adding.
Serve and enjoy dry or with milk.
Review
After trying a couple of the packaged s'mores cereals (including Malt-O-Meal S'mores cereal), I found the chocolate element in the equation in each to be lacking.
So that begs several questions:
What happens if I take matters into my own hands and make my own s'mores cereal with Golden Grahams and Cocoa Puffs?
Does it balance things out?
Do we finally have a use for Golden Grahams beside cereal bars?
Who willingly buys a box of Golden Grahams anyway?
I have answers, but maybe not all of the answers. Some things in life just need to remain mysteries.
The experience
I am all about easy recipes, and this one is no exception. It only requires about 5 minutes of prep time, mixing the ingredients together in a container.
Our kindergartener loves helping out with cooking and baking, and this one was an easy and fun sensory experience for her to mix together with minimal supervision.
The end product looks a lot like the Post Honey Maid and Malt-O-Meal versions, but the marshmallows are a little smaller.
Strengths: cocoa flavor and graham toastiness
Even though I love them, my beef with the packaged s'mores cereals is the weak chocolate flavor. The Cocoa Puffs crank up the chocolate dial quite a bit.
The Golden Grahams lack the extra coating of sugar that you find with the other s'mores cereals. The extra sugary flavor is replaced with a toastier, darker graham flavor, thanks to the Golden Grahams. It is different than the other s'mores cereals—and delicious.
Like the Malt-O-Meal S'mores cereal, the Golden Grahams hold up well in milk. They may be even better!
When soaked in milk, the mini marshmallows add sweet, sweet, sweetness and balance out the s'mores flavor.
Weakness: marshmallows aren't as good
I scoured Google, DuckDuckGo, and Amazon looking for white, cyndrical cereal marshmallows similar to what's found in the Post and Malt-O-Meal cereals, and I could only find ones similar to the marshmallows included with powdered hot chocolate.
A vendor on Amazon did trick me. Look at this photo on the listing for Sarah's Candy Factory Mini Dehydrated Marshmallows: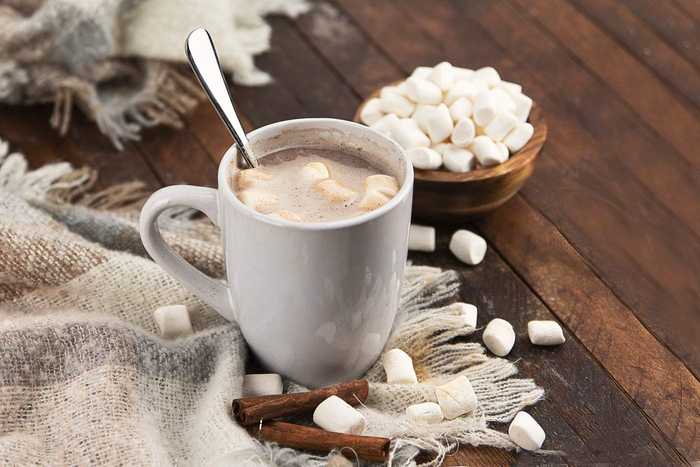 Now either those marshmallows are not the real product, or that is the tiniest coffee mug and spoon in existence. Hot chocolate shots, anyone?
Dry, these marshmallows are chewier than your typical Lucky Charms-style cereal marshmallows and not very pleasant. On the bright side, once you soak them in some milk, they are pretty similar to the brand-name s'mores cereal marshmallows' taste and texture.
It may be worth trying Lucky Charms marshmallows or regular mini marshmallows, but I really wanted to find a cereal marshmallow with a cyndrical marshmallow shape. It's a fun touch.
A great s'mores cereal, worth the extra effort
Ultimately, this s'mores cereal recipe still pleases the small children in our family, and the adults enjoy it a little more than the other versions. I'm calling it a family favorite.
This version has more chocolate flavor, doesn't taste as sweet, and is little more toasty-tasting. Definitely give it a shot and let me know what you think.
The facts
While we make every effort to provide accurate nutritional and allergen information, we urge you to double-check the ingredients' packaging or manufacturers' websites before purchasing and preparing this recipe.
Related
Get s'more recipes like this one in your inbox
You can unsubscribe anytime. We won't share or sell your contact information. Privacy policy