Giant S'mores Stuffed Chocolate Chip Skillet Cookie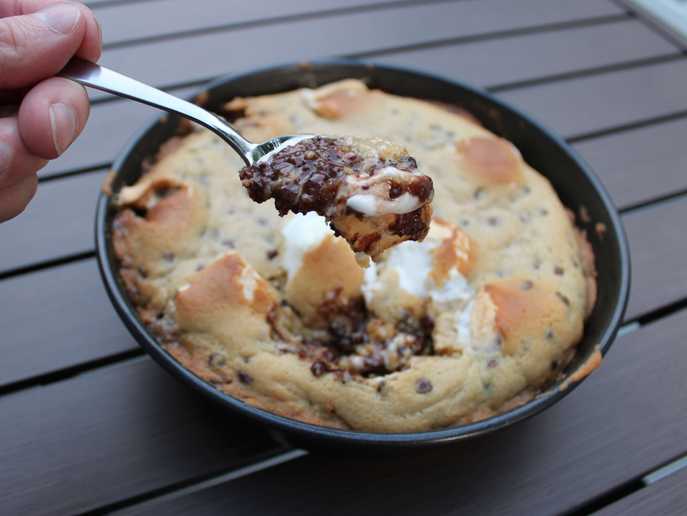 Who doesn't love fresh-out-of-the-oven chocolate chip cookies? Add a s'moresy twist and gather around the skillet with friends, family, and a spoon.
Recipe Card: Giant S'mores Stuffed Chocolate Chip Skillet Cookie
Ingredients
2 sticks (1 cup) salted butter, room temperature
½ cup dark brown sugar (use ¾ cup for a sweeter cookie)
¼ cup granulated sugar
2 large eggs, room temperature
2 teaspoons vanilla extract
2 ¼ cups all-purpose flour
1 teaspoon baking soda
½ teaspoon kosher salt
1 cup semi-sweet chocolate chips
4 squares graham crackers, broken into bite-sized pieces
8–10 marshmallows
2 Hershey chocolate bars broken into pieces
1–2 ounces semi-sweet or dark chocolate chunks (optional)
1 pinch flaky sea salt (optional)
Instructions
Preheat the oven to 350 degrees F. Lightly butter a 10–12 inch oven-safe skillet or baking pan.
In a large mixing bowl, beat together the butter, brown sugar, and granulated sugar until combined.
Beat in the eggs, one at a time, until combined.
Add the vanilla, beating until creamy.
Add the flour, baking soda, and salt.
Stir in the chocolate chips.
Spread ⅓ of the dough into the bottom of the prepared skillet.
Arrange the graham crackers over the dough, then add the marshmallows and Hershey's pieces.
Add the remaining cookie dough, gently spreading the it over the marshmallows and chocolate. It's OK if not all the dough covers the marshmallows.
Put the skillet in the oven and bake for 20–22 minutes for an extra doughy center or 22–25 minutes for a more set cookie.
Remove from the oven. Let cool 3–5 minutes.
Dig in, preferably with a scoop of ice cream.
Review
Sometimes it's good to get back to the basics. This recipe combines common from-scratch chocolate chip cookie dough with s'mores ingredients—all baked up in a skillet. Loving all these things, I was eager to dig in.
There are quite a few ingredients to measure and mix—mostly common baking staples—which certainly keeps things interesting. This is probably what my grandmother called easy back in the day, and that definitely levels up my respect for her.
The recipe calls for enjoying this treat fresh out of the oven, and I don't think anyone will have trouble following that particular instruction.
I opted to bake for the minimum amount of time for a more doughy result. The finished product encapsulates the s'mores vibe well. It's chocolatey with hints of the s'mores elements that we're always searching for while munching around the campfire: chewy and sticky toasted marshmallow, melted gooey milk chocolate, and a little bit of graham cracker.
We didn't have ice cream handy, and I think that brought this experience down a notch. After a few bites, I couldn't help but notice an excessive amount of saltiness in the flavor. The recipe offers the option of adding a quarter cup more brown sugar, and I would definitely give that a try the next time around.
All-in-all, the dessert is good, though it's much heavier on the chocolate chip cookie vibe rather than s'mores. It could have been sweeter, though the recommended brown sugar adjustment may make up for that, especially if you're not planning on pairing with ice cream.
Stay tuned for v2, whenever I get around to tweaking this one a little.
Hat tip to Tiegen Gerard at Half Baked Harvest for this recipe: Giant S'mores Stuffed Chocolate Chip Skillet Cookie.
The facts
While we make every effort to provide accurate nutritional and allergen information, we urge you to double-check the ingredients' packaging or manufacturers' websites before purchasing and preparing this recipe.
Related
Get s'more recipes like this one in your inbox
You can unsubscribe anytime. We won't share or sell your contact information. Privacy policy