Dairy-Free S'more Krispies Treats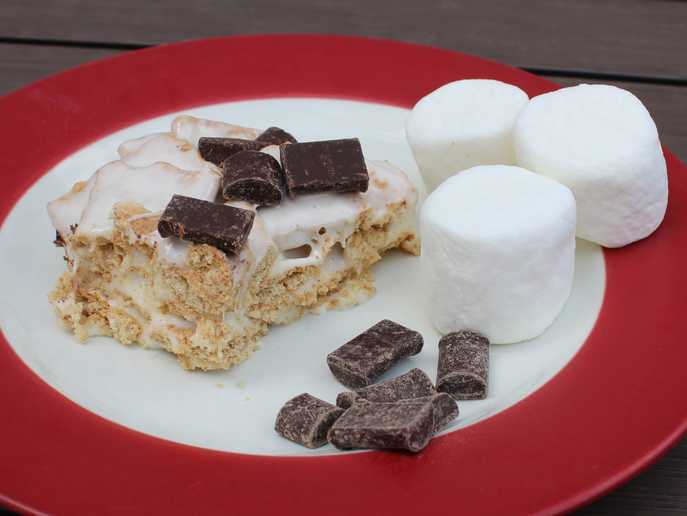 Want an easy, delicious, dairy-free s'mores treat? Imagine Rice Krispies treats with graham crackers instead of cereal. Add some dairy-free chocolate on top. The result: perfect dairy-free s'mores bars.
Recipe Card: Dairy-Free S'more Krispies Treats
Ingredients
36 graham cracker squares
3 tablespoons dairy-free buttery spread or non-hydrogenated margarine
1 package marshmallows
2 ounces dairy-free semi-sweet chocolate, chopped or chunks
Instructions
Break the graham crackers into bite-sized pieces.
If using chocolate chunks, use a sharp knife to cut them into smaller pieces.
Melt the buttery spread or margarine in a large saucepan over medium-low heat.
Add the marshmallows and stir constantly until melted.
Remove from the heat.
Stir in the broken graham crackers.
Gently mix until the cracker pieces are evenly coated.
Spread the mixture into a lightly greased 9 x 13-inch pan.
Sprinkle the chopped chocolate on top.
Lightly press the chocolate into the graham cracker mixture with wet or greased hands.
Refrigerate for at least 30 minutes.
Cut into 16 bars using a sharp knife and serve.
Refrigerate any leftovers.
Pro tips
Use gluten-free graham crackers if you'd like to avoid that allergen.
Vegan graham crackers and marshmallows can also be subbed in if that's your thing.
Add more or fewer chocolate pieces to your liking. Life is an adventure.
Review
This recipe is just about the closest you can get to the real thing without making actual s'mores... plus you get a little bonus buttery flavor mixed in.
Our son has to avoid dairy in his diet, so it is always great to be able to make a special dairy-free treat that he can enjoy along with us.
The bars taste very much like extra-crunchy Rice Krispies treats with an added graham flavor. (And I love just about anything coated in marshmallow.)
Even better, the recipe follows the fairly familiar and easy process of making Rice Krispies treats. Just swap the Rice Krispies with broken up graham cracker pieces, press some chocolate pieces on top, and voila!
This is likely due to my inexperience with making much of anything in the kitchen (remember: I prefer heating up marshmallows with sticks), but it was hard to mix the graham cracker pieces with the melted marshmallows, and the mix didn't spread too easily across its final resting place in the pan. Fortunately, my biceps won the day. Couldn't have done it without 'em.
The eating experience is a little messy, but that's how the real s'mores usually work too. Use fewer marshmallows or set out some forks for guests as a friendly hint if you think that it could cause any problems.
Despite these minor issues, I ultimately give this treat a perfect score across the board. 5 stars, baby!
Discovered on Go Dairy Free:
Simply S'mores Bars Recipe (Dairy Free).
The facts
While we make every effort to provide accurate nutritional and allergen information, we urge you to double-check the ingredients' packaging or manufacturers' websites before purchasing and preparing this recipe.
Related
Get s'more recipes like this one in your inbox
You can unsubscribe anytime. We won't share or sell your contact information. Privacy policy