Girl Scout S'mores Cookies—Little Brownie Bakers Edition
Girl Scout S'mores cookies make a return this season. The Little Brownie Bakers version is a great cookie but delivers too light-weight of a s'mores flavor.
As lore tells it, the Girl Scouts are the OG of s'mores. In 1927, they were the first to mention a recipe for "Some Mores" in an edition of the Girl Scout manual Tramping and Trailing with the Girl Scouts.
With this rich, respectable heritage, one would think that the Girl Scouts—peddlers of the springtime cookie addiction—would also own the s'mores cookie experience. With the Little Brownie Bakers edition, one would need to think again.
The experience
When I bite into these cookies, the first thing I think of is S'mores Oreos. A layer of Oreo-like chocolate and marshmallow filling is sandwiched between 2 graham-flavored cookies.
In comparison to the Oreo counterpart, the cookies are thicker to bite through, and the filling flavor and amount seems about the same.
Overall, the cookies have a light, airy flavor with a hint of cocoa.
Strengths: flavor and fun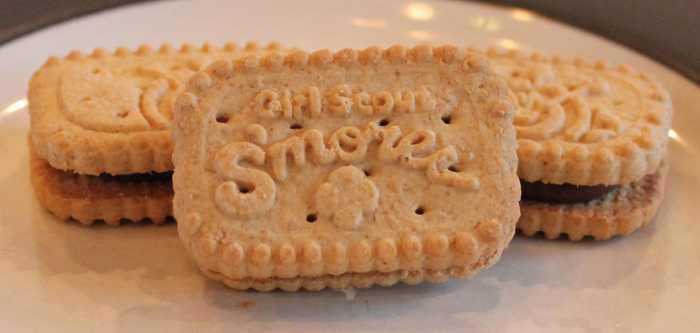 The cookies have a stamped "Girl Scout S'mores" print on one side and stamped prints of various scouting activities on the other side. It's a super-fun detail and connects me with what the organization is all about.
Even though it doesn't mimic a s'mores flavor or experience very well, I do enjoy eating this treat. I'm not sure that I'd put it in my top 3 favorite Girl Scout cookie flavors though.
Weaknesses: needs'more s'mores
The downside of these cookies comes in when I consider what's missing from what I'd want in a s'mores-flavored anything:
I can barely taste any marshmallow
The cocoa flavor is nice but much too bashful
Even the graham cookies are light on the flavor-flave
They're the LaCroix of s'mores. The White Claw of s'mores.
Good cookies, but not great s'mores.
Take ownership of s'mores, Girl Scouts!
Girl Scouts owns the history of s'mores. They need to own this flavor of cookie and bring the experience up to par with the other flavors.
I think of the richness of Samoas and Thin Mints and wonder why some of that spirit wasn't included in this flavor.
Maybe they have taken ownership already, and I'm just unlucky
As it turns out, there is another version of Girl Scout S'mores cookies by a bakery called ABC Bakers.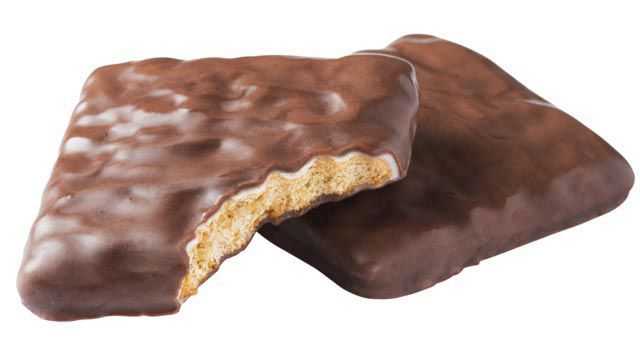 The version you can buy depends on which baker your local Girl Scouts council uses.
The description from the Girl Scouts website reads thus:
Our crispy graham cookie double dipped in yummy crème icing and finished with a scrumptious chocolatey coating (WHOA!) is one more delicious way to support her next adventure!
Sign me up! I need to figure out how to get a hold of some of this version because it looks S'MOREsome. Time to do some smuggling across the Ohio/Indiana border.
The facts
While we make every effort to provide accurate nutritional and allergen information, we urge you to double-check the product packaging or manufacturer's website before purchase and consumption.
Related
Get s'more reviews like this one in your inbox
You can unsubscribe anytime. We won't share or sell your contact information. Privacy policy