OREO S'mores, Limited Edition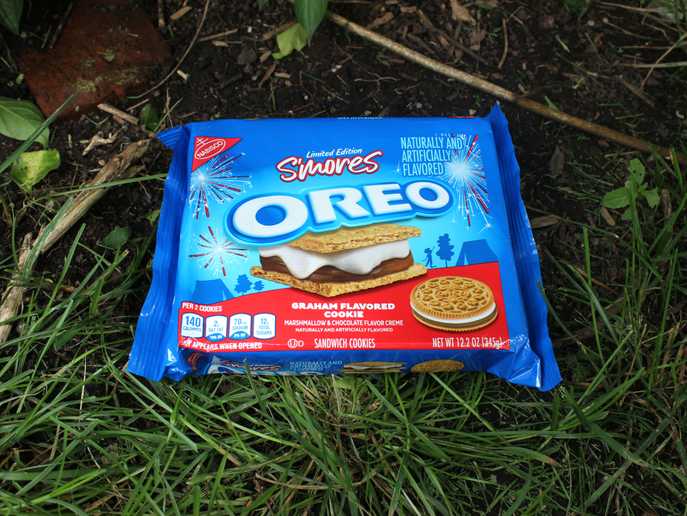 Surprise! Limited edition OREO S'mores have returned this summer. These crunchy campfire cookies are one of the most delicious packaged s'mores cookies.
The experience
After a 4-year hiatus (2015), then another 2 (2019), OREO S'mores are back for summer 2021.
These twistable little s'mookies are packed with s'mores flavor and can be enjoyed without the gooey mess.
The contents:
Crisp graham cookies
Layers of marshmallow- and chocolate-flavored OREO creme
My only question: what idiot at Nabisco dropped the ball and didn't realize that they should be called S'moreos?
Strengths: the whole package—and oh, the graham
As I was finishing the remaining 2 cookies from the package, I shoved an entire S'moreo into my mouth. All of the flavors and textures teamed up to pretty good overall s'mores flavor.
The graham cookies on this one are 5-star show stealers. They are extra crisp and full of graham flavor—more so than I remember from the 2015 run.
Weak marshmallow and shy chocolate
But who would end the conversation after discussing only the cookie part of an OREO?
While the creme layers add the texture that make OREO famous, the flavors are a tad on the bashful side. The chocolate adds enough flavor, but the marshmallow flavor could be stronger.
Girl Scout cookie comparison
All in all, the flavors in OREO S'mores are much more present than the similar Girl Scout S'mores sandwich cookies. I like supporting the Scouts, but the OREO one is simply better.
I'm not sure how much longer these limited edition cookies will be around—or when we'll see them again—so grab a package before they're gone.
The facts
While we make every effort to provide accurate nutritional and allergen information, we urge you to double-check the product packaging or manufacturer's website before purchase and consumption.
Related
Get s'more reviews like this one in your inbox
You can unsubscribe anytime. We won't share or sell your contact information. Privacy policy