Lunchables S'mores Dippers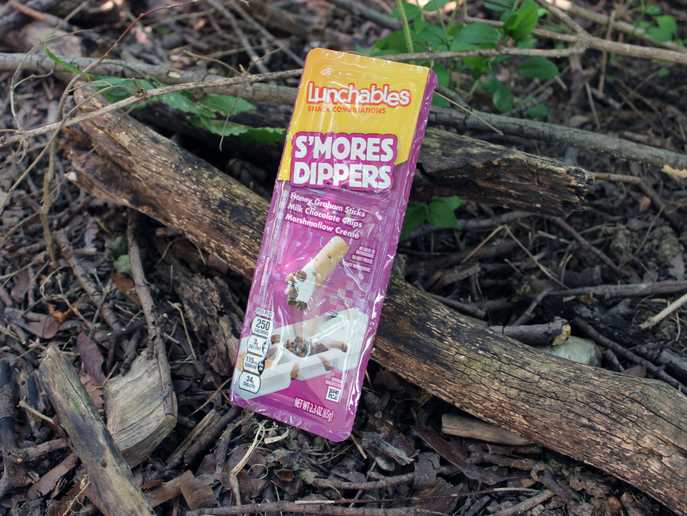 Lunchables, makers of THE plastic bento boxes of lunch meat and snacks, makes a quick little dippable s'mores snack loaded with chocolate chips and marshmallow creme.
The experience
Upon opening the slim packagaing, Lunchables S'mores Dippers contains little compartments with the essential s'mores elements:
Honey graham sticks
Milk chocolate chips
Marshmallow creme
For around the number of calories of a can of Coke, you get a sweet build-your-own snack adventure with plenty of marshmallow.
Strength: a snacktivity loaded with marshmallow
This treat is interactive and fun, sort of like building a real campfire s'more.
You can load up the graham cracker sticks with as much marshmallow creme and chocolate chips as you like, and you'll still have extra left over.
There is actually too much marshmallow creme in particular, but I'm not complaining. With some experience, it becomes a fun challenge to try to eat as much of the creme as possible before running out of graham sticks.
Weakness: needs more graham sticks
That said, inclusion of more graham cracker sticks would be nice. We need more kindlin' for this fire.
Or perhaps there's generally a passive shrug from those of us who don't mind shamelessly digging out the remainder of the marshmallow creme with a spoon, finger, tongue, or what have you.
The facts
While we make every effort to provide accurate nutritional and allergen information, we urge you to double-check the product packaging or manufacturer's website before purchase and consumption.
Related
Get s'more reviews like this one in your inbox
You can unsubscribe anytime. We won't share or sell your contact information. Privacy policy