Hostess S'mores CupCakes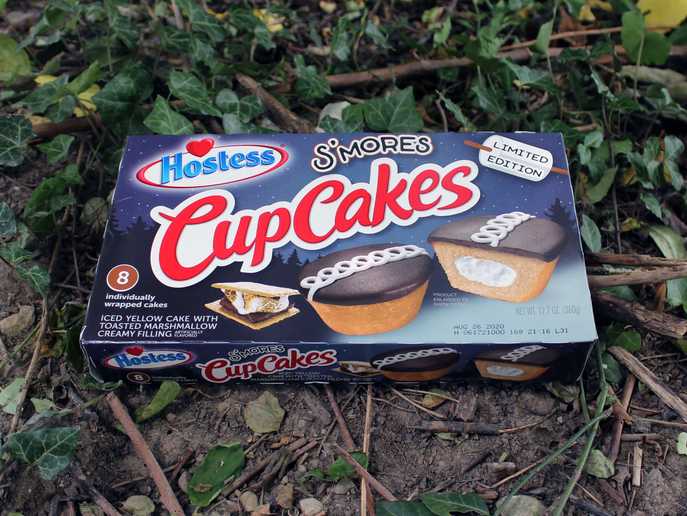 Hostess's limited edition S'mores CupCakes are an average s'mores experience with some extra nostalgia baked in.
Let's mix the childhood nostalgia of s'mores with the nostalgia of the beloved, individually-wrapped, vanilla-filled Hostess CupCake treat.
Remembering a childhood of scarfing down Hostess CupCakes, I absolutely had to try the S'mores ones when I saw them come across my social media feed.
The experience
Think of the original Hostess CupCakes, and make these mods:
Swap out the chocolate cake with yellow cake
Color the yellow cake with the slightest bit of orange
Add a tinge of toasted marshmallow flavor to the vanilla filling
The result is a s'mores-themed cupcake that tastes very similar to our childhood favorite, the key difference being the use of yellow cake instead of chocolate.
Strengths: chocolate icing (and did I mention nostalgia?)
Chocolate lovers rejoice! The flavor of these cupcakes is overwhelmingly chocolate, contributed by the solid helmet of icing on top.
I prefer yellow cake to chocolate, and it provides the nice moist wrapped Hostess CupCake texture while also stepping aside and letting the icing be the true star of the show.
Being a s'mores lover, I applaud this edition of the treat for the fun-factor alone. If I'm going to have a Hostess CupCake, then let's make it s'mores-flavored. And that signature squiggly line of white icing on top brings me back to the happy times of childhood.
Speaking of childhood, do you have kids? My 5-year-old daughter loves these and will gladly eat one when offered. Kid-approved. Boom.
Weaknesses: lack of graham and marshmallow, overly sweet
I mentioned chocolate. But what about the other 2 flavors in the s'mores triforce?
I've been careful up to this point to only mention yellow cake because there is no real presence of graham flavor in it. The orange coloring Hostess adds to the cake makes me want for graham to be there, but it just isn't. I call it the Fruit Loops Effect. They're messing with our psychology, man.
If I dream really hard, I think I can taste marshmallow in the vanilla filling. It's in the description, so it must be there, right?
Iced yellow cake with toasted marshmallow creamy filling.
(Emphasis mine.)
All of that is to say that the balance of the s'mores isn't there—with a no-call/no-show from our friend Mr. Grahamerson.
Lastly, as I finish one of these 2-biters, mostly reflect on the sugary-sweet overload of flavor. I enjoy mostly, but I feel like the sweetness could have better manners and back off a little.
An average s'mores experience
All-in-all, Hostess provides us with an average s'mores product at an affordable price.
If you like Hostess CupCakes, love the milk chocolate aspect of a traditional s'mores, have a slightly insane sweet tooth, or are looking for a sweet treat to chuck at your kids, I say go for it.
Hostess S'mores CupCakes are sold exclusively at Walmart for a limited time.
The facts
While we make every effort to provide accurate nutritional and allergen information, we urge you to double-check the product packaging or manufacturer's website before purchase and consumption.
Related
Get s'more reviews like this one in your inbox
You can unsubscribe anytime. We won't share or sell your contact information. Privacy policy