Jelly Belly S'mores Jelly Beans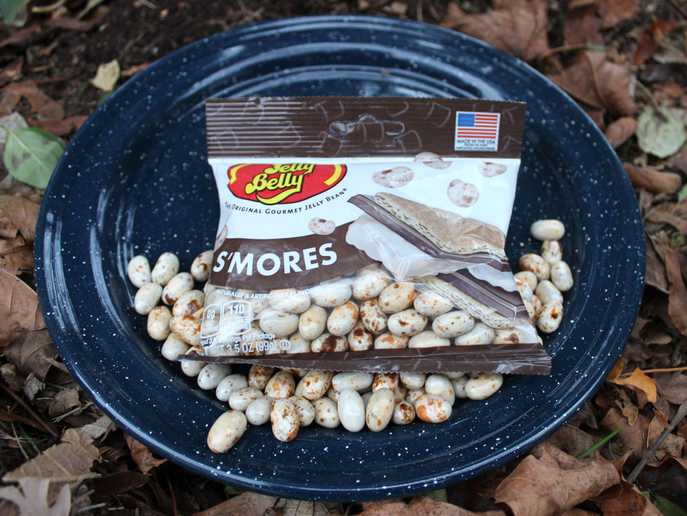 Jelly Belly has combined all of the s'mores flavor into a single s'mores jelly bean. Throw a bag in your pack for your next hiking trip!
The experience
Jelly Belly concentrated all of the s'mores flavor into a single gourmet jelly bean. They are distributed in portable "grab and go" bags—perfect for stashing into your backpack and sharing with fellow hikers and squirrels.
You definitely get the usual chewy, stick-to-your-teeth Jelly Belly experience with these s'mores jelly beans. Visually, they make me think of gooey toasted marshmallows with splashes of chocolate and graham mixed in.
But does the combined chocolate/graham/marshmallow jelly bean pack the fundamental one/two/three punch that we all love about campfire s'mores?
Strength: toasted marshmallow
The main strength is definitely the toasted marshmallow flavor.
Jelly Belly in fact has a dedicated toasted marshmallow jelly bean, and I'd be surprised if they hadn't started with that as the base for this one.
Weaknesses: low chocolate, high aftertaste, maybe a little drunk
The strengths pretty much end there.
I could taste a hint of chocolate in these jelly beans. It was more akin to sniffing a bit of hot cocoa powder floating in the air while eating marshmallow fluff.
For some reason, I kept mistaking the chocolate for a coconut/piña colada flavor. I couldn't get it out of my head that the jelly beans tasted coconutty (but I can assure you that Wife Scout declared that I was insane, so there is that).
Overall, the flavor is overly sweet and leaves a bad aftertaste. This is a problem common to many a s'mores-flavored candy. Remember, confectioners: going overboard with marshmallow flavoring leads to poor outcomes.
Not the greatest—but still entertaining
Even if these aren't my favorite s'mores treats on the campsite, I would still happily pack a bag of Jelly Belly S'mores in my bag for a hike. They work OK overall, especially if you have a drink to wash down the aftertaste.
The facts
While we make every effort to provide accurate nutritional and allergen information, we urge you to double-check the product packaging or manufacturer's website before purchase and consumption.
Related
Get s'more reviews like this one in your inbox
You can unsubscribe anytime. We won't share or sell your contact information. Privacy policy