Russell Stover S'mores, Milk Chocolate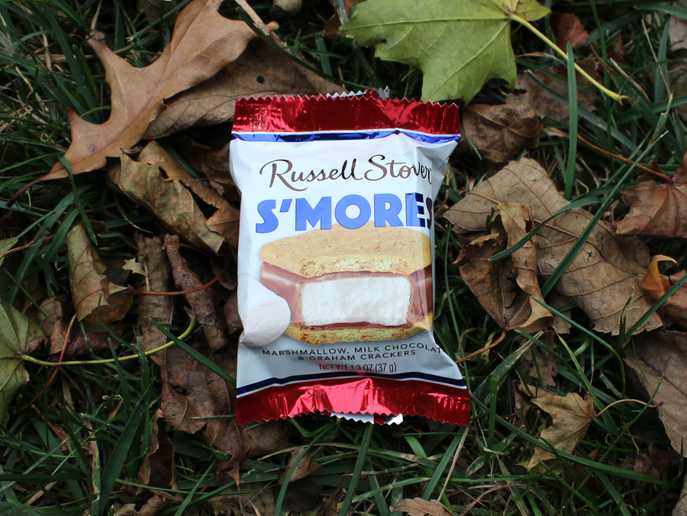 This is top-of-the-line s'mores candy. If you ever run across it in a checkout line, buy it and smash it. ("Smash" as in eat it immediately. You're so violent.)
The experience
I'm not sure if there is much tribalism around chocolate, but my family growing up was a Russell Stover family.
This drugstore and checkout line treasure adds an individually-wrapped Russell Stover twist to our favorite campfire treat:
Thick, vanilla Russell Stover marshmallow
Covered in Russell Stover milk chocolate
Sandwiched between graham crackers
It works quite well as a quick treat.
Strengths: the usual Russell Stover elements
Being a marshmallow fanatic, one of my favorite things in life is a Russell Stover chocolate-covered marshmallow treat. The Russell Stover S'mores is exactly that, sandwiched between crisp graham crackers.
The marshmallow is chewy and thick. It doesn't have a toasted quality, but it is a comforting joy to chew on.
The milk chocolate coating on the marshmallow is top-notch. Russell Stover makes great chocolate, and this is no exception.
The crunch of the graham cracker when you bite into it makes the whole snack feel more authentic.
Weaknesses: weak graham cracker flavor
With this particular treat, the graham cracker mainly adds texture but not much flavor.
Regardless, the treat as a whole is delicious. Smash away, but be sure to pay for it first.
The facts
While we make every effort to provide accurate nutritional and allergen information, we urge you to double-check the product packaging or manufacturer's website before purchase and consumption.
Related
Get s'more reviews like this one in your inbox
You can unsubscribe anytime. We won't share or sell your contact information. Privacy policy