Easy Mini S'mores Pies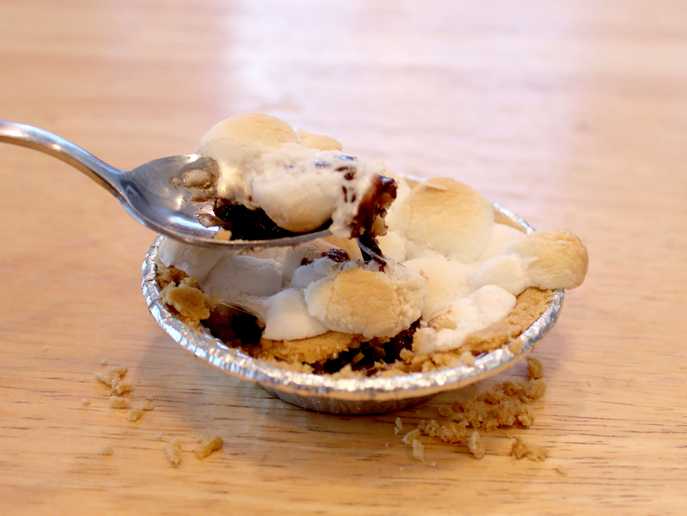 These mini s'mores pies are delicious, fun, and easy-to-make little bundles of s'moresy joy. Hey, you can't go wrong when most of the ingredients are the same as the traditional s'more.
Recipe Card: Easy Mini S'mores Pies
Ingredients
6 mini Keebler Ready Crust Graham pie crusts
1/2 bag mini Kraft Jet Puffed marshmallows
3 full-sized Hershey's milk chocolate bars
Instructions
Pre-heat oven to 350°.
While the oven is pre-heating, place mini graham pie crusts on baking sheet.
For each pie crust, break apart half of a Hershey's chocolate bar and add to the bottom.
Add mini marshmallows to the top of each pie.
Put the baking sheet full of mini s'mores pies into the oven. Bake for 8 minutes.
Remove from the oven and let cool for 3 minutes before devouring with family and friends.
Pro tips
You are in control of your destiny on this one.
Add as many or as few chocolate pieces and/or marshmallows as you'd like.
Swap in different kinds of chocolates and marshmallows.
Drizzle with chocolate sauce and/or stick in a graham cracker square and Hershey's piece for extra decoration.
Review
It's not hard to imagine what will happen when you put Hershey's bars and mini marshmallows in a graham cracker pie crust and bake it in the oven.
You get a rich, warm, gooey blend of milk chocolate and toasty marshmallow—in pie form.
This dessert or treat is perfect for when the weather outside is less than ideal or you don't feel like dealing with a campfire, mess, or holding a fork and marshmallow over a kitchen stove burner like an idiot. (Guilty as charged.)
Strengths: easy, simple, fun, and delicious
This recipe is simple and easy. Pre-heat the oven and throw the pre-packaged ingredients together while waiting.
The biggest challenge for me was mustering up the self-control to keep myself from eating all of the marshmallows and chocolate bars while waiting.
The mini size of the pies is fun, the perfect size for kids, and can help constrain adults' gluttony to measured portions. If you love s'mores, be warned that these mini pies are so delicious that you'll likely be asking for s'more however.
The warm, melty sensation of eating a traditional s'mores is captured perfectly if you eat these pies shortly after taking them out of the oven. I doubt you'll have trouble finding the urgency.
Minor criticisms: watch the marshmallows, and the graham crust could be a little better
Most of mini s'mores pie recipes that I've run across call for 8–10 minutes of baking time. I was really going for the toasty look with the marshmallows, so I left them in for 10-minute end of the range. The toasty shell that formed around the mini marshmallows came out a little on the chewy side, so next time I'd opt for just 8 minutes.
The Keebler graham cracker crust served well for the graham element. It's possible that I got too carried away with comparing these pies to the real thing (they really are that good), but I felt that the crust seemed a little too crunchy and was a little stale-tasting.
Great s'mores experience
Shout out to this Facebook post by Lauren Grude for inspiring us to try these gems out. A perfect 5-star rating goes to this one!
The facts
While we make every effort to provide accurate nutritional and allergen information, we urge you to double-check the ingredients' packaging or manufacturers' websites before purchasing and preparing this recipe.
Get s'more recipes like this one in your inbox
You can unsubscribe anytime. We won't share or sell your contact information. Privacy policy