Fisher-Price S'more Fun Campfire Playset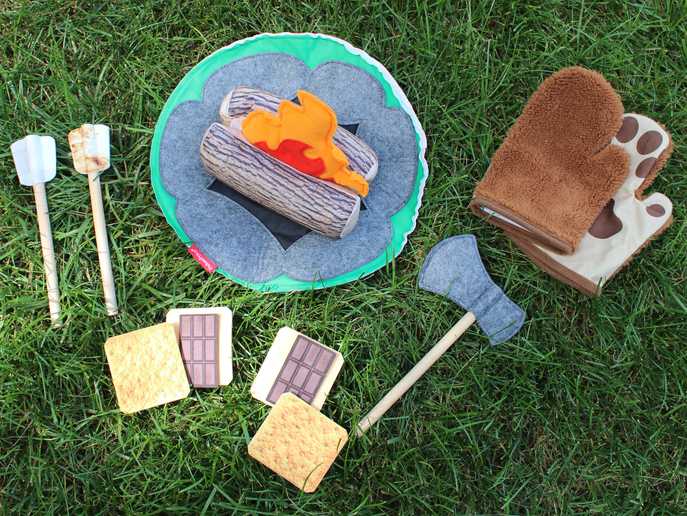 Who doesn't love play food or bear attacks? Give your kids the gift of imagination so they can train up on their s'moreskills and learn how to play dead around bears with this playset by Fisher-Price.
The experience
One of the cruelest things my kids do is make me take a "pretend nap" while they're playing. (I want the real thing!) The second-cruelest thing that they do is use this playset to make pretend s'mores and turn me into a pretend Pavlonian dog.
This play set includes quite a few pieces:
Play felt ax with wooden handle
Play log halves with velcro attachment (can be "split" with the ax)
Play fire
2 wooden sticks with 2 play felt marshmallows
4 play graham cracker squares
2 play chocolate bars
1 play fire pit mat that can be turned over to transform into a picnic table with serving plates
2 bear hand gloves
After chopping the wood and starting the fire, the kids can then make 2 s'mores and serve them up picnic-style.
Strengths
I joked earlier about the cruelty of pretend s'mores, but I love that this toy allows my kids to use their imaginations and practice the Art of the Campfire S'more.
The play fire and bear hand gloves add an element of trouble—the fun kind of trouble!
And hey, this toy is great when you're stuck inside during less-than-ideal weather or a global pandemic crisis.
Weaknesses
If I were to choose one weakness, it would be the relative flimsiness of the felt pieces (particularly the ax blade). This toy is designed for ages 3+ though, so this is likely a good call—it's all fun and games until someone chops off an arm.
The facts
Product

Gear up for exciting camping adventures with the S'more Fun Campfire role play set from Fisher-Price! Preschoolers can "chop" wood, tell stories around the campfire, "roast" some tasty s'mores, and even enjoy a lovely picnic. But watch out for bears! With real wood accents, fabric treats, and soft, wearable bear paws, this set lets your little camper act out all sorts of fun outdoor stories—right in your living room.

Brand

Manufacturer

Fisher-Price
East Aurora, New York 14052
USA

Related
Get s'more reviews like this one in your inbox
You can unsubscribe anytime. We won't share or sell your contact information. Privacy policy