Coffee Beanery S'mores Flavored Coffee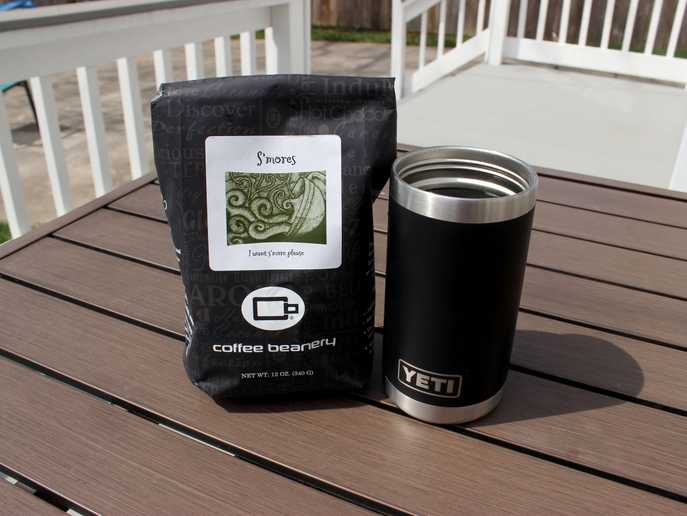 Coffee Beanery elevates coffee into an extra-tasty treat with their s'mores flavored coffee.
The experience
Close your eyes. Imagine that first sip of coffee early in the morning. Now add a smooth graham, chocolatey flavor to that. That's Coffee Beanery's s'mores flavored coffee.
For this review, I brewed this coffee pour-over style in a Hario ceramic coffee dripper with paper filters. I bought it whole bean and ground it somewhere between fine and medium coarseness.
I prefer my everyday coffee black, so I was able to try this coffee in its essence without any extras.
Overall, this coffee is a real treat. It has its own unique strengths when compared to others like Caribou's, so keep reading for the low-down.
Strengths: chocolate and graham paradise
Like any good flavored coffee, Coffee Beanery's s'mores emits a wonderful aroma when opening the bag, grinding the beans, and brewing. You can definitely smell the milk chocolate and a little hint of graham.
The flavor of the coffee matches that aromatic experience. It nails the chocolate flavor, the most dominant flavoring of the three. It has a milk chocolate quality to it, reminscent of Hershey's cocoa.
A nice graham flavor pairs up with the chocolate to channel more of the toasted s'mores vibe.
Overall, the s'mores flavor is balanced, pleasant, and complex enough to make it fun to search for the flavors while caffeinating up for the day.
Weakness: light on the marshmallow, strong on the flavor
Sadly, one weakness is too light of a marshmallow flavor. There is a little bit of marshmallow sweetness at the beginning of each sip, but I wish it was more present. If that's important to you, you'll still probably enjoy this one though. (I do.)
As with all flavored coffees, I have trouble drinking this one daily. After about a week, I find it to be too rich and overwhelming. Mixing it half-and-half with other coffee grounds helps back it off a little for more frequent consumption.
Small business touch, big business flavor
Weaknesses aside, this is still an excellent coffee from my neighbors up in Michigan. The whole flavor works well together and is very s'moresy. Give it a whirl!
The facts
Allergens
Egg Free
Fish Free
Gluten Free
Milk Free
Peanut Free
Shellfish Free
Soy Free
Treenut Free
Wheat Free
Ingredients
100% specialty Arabica coffee. Natural and artificial flavoring.
While we make every effort to provide accurate nutritional and allergen information, we urge you to double-check the product packaging or manufacturer's website before purchase and consumption.
Related
Get s'more reviews like this one in your inbox
You can unsubscribe anytime. We won't share or sell your contact information. Privacy policy