Caribou Coffee S'mores Cabin Flavored Ground Coffee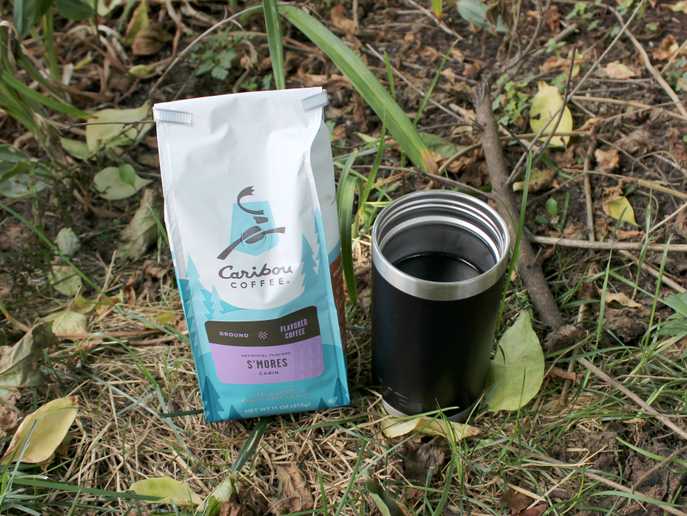 Caribou Coffee transforms a regular cup o' joe into a s'mores treat masterfully with their S'mores Cabin flavored ground coffee.
The experience
For this review, I brewed this coffee pour-over style in a Hario ceramic coffee dripper with paper filters. With the course grounds, the coffee drained through the grounds and filter in record time.
I prefer my coffee black, so it was easy for me to try this product in its essence and not hate the experience.
The coffee tastes a little like Caribou's Campfire Mocha. I can taste a similar graham and marshmallow flavoring.
All that aside, I am absolutely in love with Caribou S'mores Cabin coffee. Let me count the ways.
Strengths: magical s'mores coffee
First off, the aroma is off-the-charts amazing. When I first open the bag, the entire kitchen fills with the sweet smell of marshmallow and coffee. While brewing the coffee, I smell s'mores and dream, dream, dream.
The first sip tastes warm, toasted, smooth, and sweet. There is a lot of presence of the s'more, especially marshmallow and graham flavors.
Overall, the flavor is rich and complex. It reminds me of a grog. The coffee itself is smooth and isn't particularly strong or dark. It's fun to search for the various elements of the s'mores flavor with each sip.
Weakness: can't find much chocolate
Chocolate doesn't have much presence in the Caribou S'mores Cabin flavored coffee, but the flavor of the coffee fills in a little for that role. (I've always thought that coffee tastes similar to chocolate anyway.)
Hey, coffee pairs incredibly well with chocolate. So eat some chocolate with it if you miss it that much.
I'm in love, and I don't care who knows it!
Caribou Coffee knows their way around a s'more. We should do all of our outs'morcing to Minnesota businesses from now on.
I'm definitely going to stock a bag of this in the cupboard at all times—right next to the bags of emergency marshmallows and escape chocolate. While I do enjoy this coffee in the morning, I've mainly been brewing it for an afternoon treat to help me through the post-lunch slump.
You can find Caribou Coffee S'mores Cabin flavored coffee in select grocery stores or buy it online.
Cheers! As Caribou Coffee says, "Life is short. Stay awake for it."
The facts
Allergens
Egg Free
Fish Free
Gluten Free
Milk Free
Peanut Free
Shellfish Free
Soy Free
Treenut Free
Wheat Free
Ingredients
Arabica coffee, natural and artificial flavors.
While we make every effort to provide accurate nutritional and allergen information, we urge you to double-check the product packaging or manufacturer's website before purchase and consumption.
Related
Get s'more reviews like this one in your inbox
You can unsubscribe anytime. We won't share or sell your contact information. Privacy policy