Starbucks S'mores Frappuccino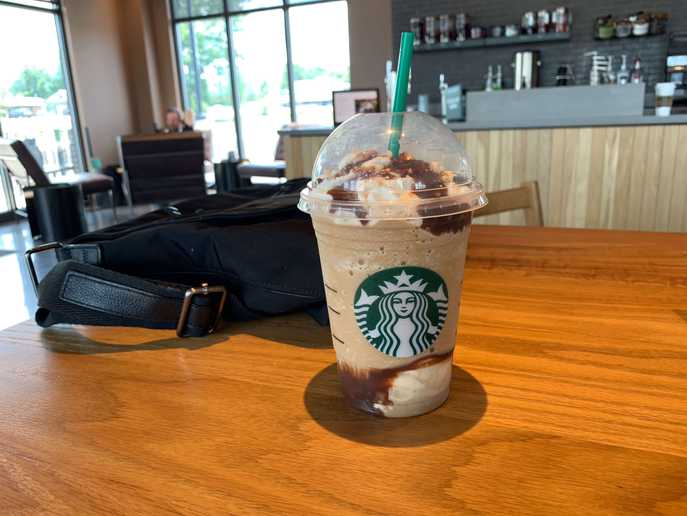 Want s'mores, caffeine, and a summertime cooldown? Starbucks offers a cold, bland, and expensive seasonal dessert to help you fulfill your marshmallowy desires.
Disclaimer: My name is Chris, and I am a coffee addict. I prefer my coffee black, which is the polar opposite of this drink. However, I feel that this is balanced out by the fact that I am in love with s'mores, which are about as sweet of a treat as you can get.
The experience
After forking over $5.25+ for a grande-sized S'mores Frap and waiting for some time during the drama of blenders and drive-thru windows opening and closing, I received a beautiful, translucent cup full of s'mores-colored tones.
I doubt anyone in the shop noticed or cared when I whipped out my phone to take several photos of this beautiful siren song of a dessert.
Let's break down the elements of the Starbucks S'mores Frappuccino:
Frappuccino blend of coffee, milk, vanilla, and ice
Milk chocolate syrup
Marshmallow-infused whipped cream
Graham cracker crumble on top
With the whipped cream, milk, and chocolate syrup, you're definitely getting a dessert, not just a drink. With all that sugar and zero fiber, you best be eating your broccoli too.
Strengths: first and last sips
First impressions are everything, no? The first sip with the straw buried deep into the drink by far was the best: chocolatey and graham crackery with coffee mixed into the flavor.
The last sip was pretty good too: tons of whipped cream, syrup, and graham crackers.
Weakness: everything in between
The middle layer is a light, watered-down, icy coffee slushie thing, and it's kind of a bummer. It also takes up 80% of the volume. Math tells me that this drink is 80% bummer.
Perhaps I am a grizzled coffee veteran, and the frappuccino line is designed to be the gateway drug to real coffee. I see what you're doing there, Starbucks.
Each of the s'mores elements are definitely present, but you have to work to find them. I found myself bobbing the straw down to the bottom and returning to the surface to grab some of the good stuff and bring some meaning to this drink (and my life). I felt like some sort of marine creature the entire time.
The chocolate flavoring tastes a lot like the Hershey's syrup that you mix into your milk when you're hard up for some chocolate. Hershey's is a safe bet for s'mores flavoring, but I'm not convinced that it's the best option when it's in syrup form.
Another average experience from Corporate America
I enjoy this drink enough and understand why a large number of people would grab one for a sugar and caffeine buzz. While I enjoy some of the Buck's products (holla to Veranda Blend!), I think this one has "meh" written all over it.
With all of the sugar content, I suggest choosing your battle on this treat wisely. I'm not sure that I'd want to diabetes on this particular hill though.
The facts
While we make every effort to provide accurate nutritional and allergen information, we urge you to double-check the product packaging or manufacturer's website before purchase and consumption.
Get s'more reviews like this one in your inbox
You can unsubscribe anytime. We won't share or sell your contact information. Privacy policy