Quest Nutrition S'mores Protein Bars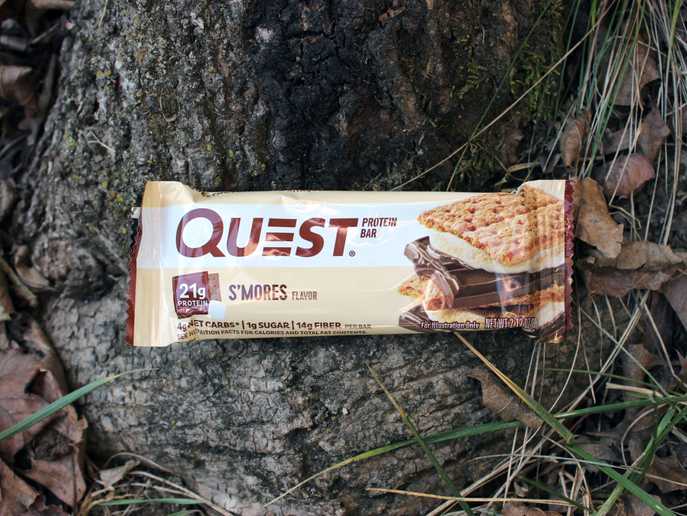 Add s'mores to your fitness regimen with Quest S'mores protein bars. Just make sure to eat it strategically.
The experience
The S'mores Quest bar is a fairly solid, dense piece of nutrition bar. It has a thick, chewy fudge-like quality to it. The base bar has a honey-graham style flavor.
Mixed into the bar are a couple types of s'mores chunks: unsweetened chocolate chunks and graham cracker chunks. These add a variety of texture.
Formal description aside, it begs the question: should you curl this bar into your mouth while you're pumping iron?
How to get enjoyment out of Quest S'mores bars
First, these bars are loaded with nutrients: tons of fiber and protein.
When I first tried this protein bar, I did not enjoy it. The first bite was really good, but then it became less enjoyable with each bite.
I then noticed that the chocolate chunks were by far the most enjoyable part.
Point of strategy: when I made it a point to get some chocolate chunk in each bite, the bar tasted so much better.
Weaknesses: overly dry texture and artificially sweetened
What happened when I didn't ensure chocolate chunk distribution amongst the bites? That's when things get unpleasant with Quest S'mores.
The graham-tasting bar quickly fades to a bad aftertaste of artificial sweetener (Stevia-powered™).
One would hope that the chunks of graham cracker would help, but they are islands of despair all in themselves. While there is a slight crisp quality, the graham pieces somehow taste dry and mushy all at once. While you're doing crunches, these don't provide much crunch.
And oh, there was zero marshmallow flavor that I noticed.
What if I microwave it?
Many devoted Quest bar fans insist that you should try microwaving them.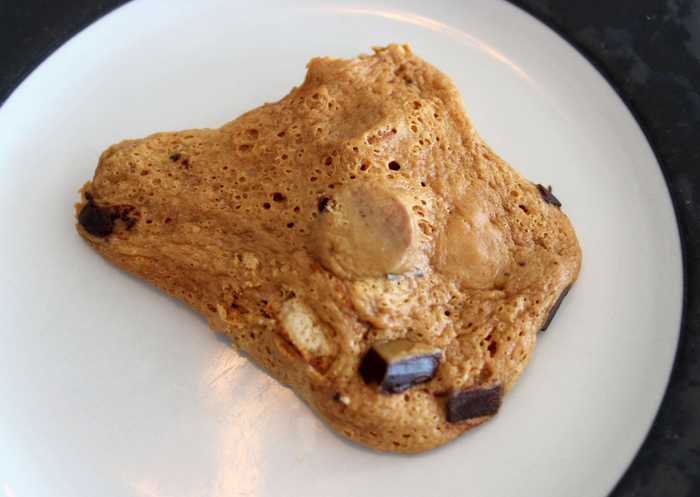 Above: Half of a Quest bar, microwaved into a pile of goo.
The result is... interesting. The bar becomes somewhat cookie-like, with a crisp outer shell and soft, warm middle. The first bite was similar to the unbaked version: it tasted like it had promise, but then the artifically-sweetened flavor kicked in during the aftertaste.
There was also a pronounced chalkiness to the overall texture and flavor, even after being heated up.
P. S. to fitness buffs out there
I get that protein bars usually suck. I get that this one is better than most.
I get that Stevia doesn't taste all that bad if you make an earnest effort to cut out processed sugar.
Sorry if I ruined this for you. I hope there are better things coming for you.
In the meantime, if you truly get joy out of Quest S'mores bars, go for it! More power to you!
The facts
While we make every effort to provide accurate nutritional and allergen information, we urge you to double-check the product packaging or manufacturer's website before purchase and consumption.
Get s'more reviews like this one in your inbox
You can unsubscribe anytime. We won't share or sell your contact information. Privacy policy