Golden Grahams S'mores Toaster Strudel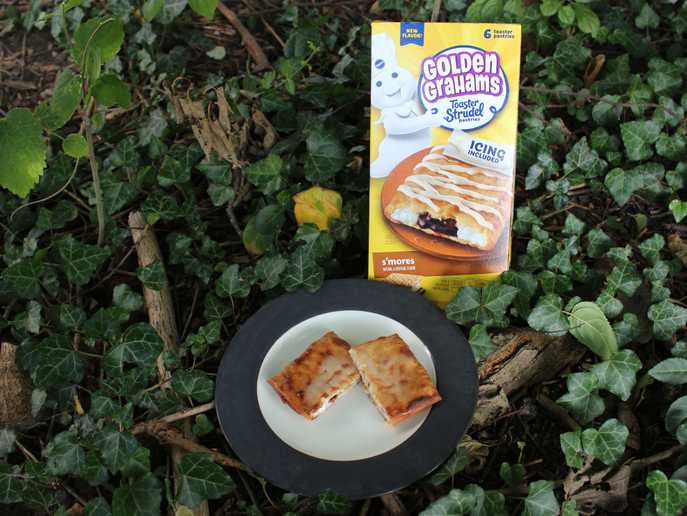 Poke the dough boy in the belly. He'll giggle and hand you this standard Pillsbury Toaster Strudel with graham icing flavor cranked to 11. (And it has a smack of s'mores flavor too.)
The experience
For those familiar with Toaster Strudels, this is mostly what you would expect: a flaky pastry filled with marshmallow and chocolate filling.
The little packet of icing is always the best part. It adds tons of sweetness and lets you doodle a small drawing on top of the strudel if you so wish.
In this case, the icing is special: it contains all of the Golden Grahams magic power.
Strengths: nostalgia, max graham
Just as s'mores had an memorable presence in my youth, so did Pillsbury Toaster Strudels. Every bite gives me a flashback of watching Power Rangers after my paper route in the 90s, wondering what was going on with the words not matching up with the actors' lips.
The included Golden Grahams icing packs a ton of vanilla- and graham-flavored punch and was perfect for drawing a balloon with ray beams shooting out from it.
Weaknesses: WTF plain pastry, not enough filling
I found it entirely disappointing that the pastry itself was not graham-flavored. Isn't that exactly what you would expect when seeing the sunny yellow packaging with giant Golden Grahams logo? Didn't S'mores Pop Tarts set the precedent here?
The chocolate and marshmallow filling tastes pretty amazing—but only when there is enough of it pooled into a bite. Most of the time, it has a faint presence. I could only really taste chocolate and marshmallow when taking the final bite. I wish there would have been more balance to the flavors. Consider having a jar of Nutella handy to supplement.
A fun mix-up of an old standard
Overall, it was fun to eat a Toaster Strudel again, and it was enjoyable to draw a happy face on my food. This flavor could have been better, but it was pretty good as far as Toaster Strudels go.
Give them a try if you can find them in your local grocery store's frozen food section.
The facts
While we make every effort to provide accurate nutritional and allergen information, we urge you to double-check the product packaging or manufacturer's website before purchase and consumption.
Get s'more reviews like this one in your inbox
You can unsubscribe anytime. We won't share or sell your contact information. Privacy policy