Chobani Flip S'more S'mores Yogurt
For lovers of greek-style yogurt and s'mores, Chobani Flip S'more S'mores is a lovely treat. For the rest of us, it provides a mediocre s'mores experience.
The experience
The Chobani Flip product line is designed to be a greek-style yogurt snack with a little extra something-something on the side for a treat.
The S'more S'mores flavor contains these elements:
Vanilla-flavored low-fat greek yogurt
Mixins: milk chocolate chips, graham cracker bits, and toasted sugar bits
The little side cup of mixins makes you shrug your shoulders, bob your head a little, and smirk wryly as you realize that you're totally cheating on your diet. Don't worry; your secret is safe with me.
Strengths: feel-good branding and texture
Brand-wise, Chobani lives out an admirable story. Their Chobani Way statement says it all:
We're totally and deeply committed to playing an active role in transforming our food system for the betterment of our planet, our people and our communities.
While you're pumping their lactose and sugar into your bloodstream, you're making the planet a better place, you hero.
And the packaging. It just makes me so happy to see dancing s'mores celebrating art and life.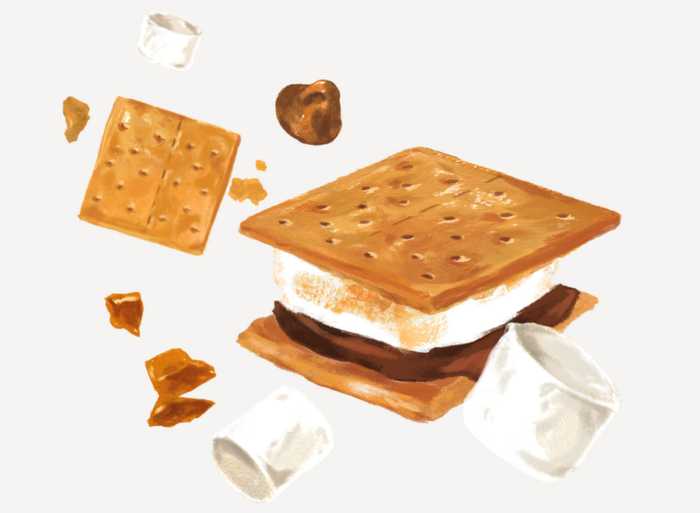 Seriously, I want a print of this on our living room wall. How are you not smiling right now? Or drooling?
After stirring in the little chocolate chips, graham cracker bits, and toasted sugar bits, each bite has a nice bumpy texture.
The milk chocolate flavor cuts through the strong greek yogurt flavor pretty nicely and tastes good.
Weaknesses: no marshmallow, weak graham
Chobani fails miserably at getting the vanilla or marshmallow flavors right in their s'mores flavors. I had the same gripe when I tried out the Peanutty S'mores flavor.
The tangy greek-style yogurt flavor is too strong, and I don't detect any marshmallow-like flavor at all. With this S'more S'mores flavor in particular, they don't even try with the marshmallow—the packaging only claims to have "vanilla low-fat greek yogurt."
The graham cracker bits add some texture and teams up with the toasted sugar bits to battle against ole "screamin' yoge." Unfortunately, these ingredients only succeed in adding a trace amount of sugary, toasted graham flavor.
Lastly, how "clean" is this eating really? While this snack contains natural ingredients, is low-fat, vegetarian-friendly, has no GMOs, etc., don't be fooled into thinking that it is a health food. It has a good amount of protein but also tons of added sugars that are not balanced out by much fiber.
There's gotta be s'more out there
Chobani Flip S'more S'mores is better than its limited-batch Peanutty S'mores cousin, but it's still not great.
If you really like tangy greek-style yogurt and want a s'mores snack, then this is probably worth trying.
If you have a less-refined palate like me, you'll want something that tastes a lot better to go along with all of that added sugar.
As Third Eye Blind so eloquently sings, I want something else.
The facts
While we make every effort to provide accurate nutritional and allergen information, we urge you to double-check the product packaging or manufacturer's website before purchase and consumption.
Related
Get s'more reviews like this one in your inbox
You can unsubscribe anytime. We won't share or sell your contact information. Privacy policy