Cheesecake Factory Toasted Marshmallow S'mores Galore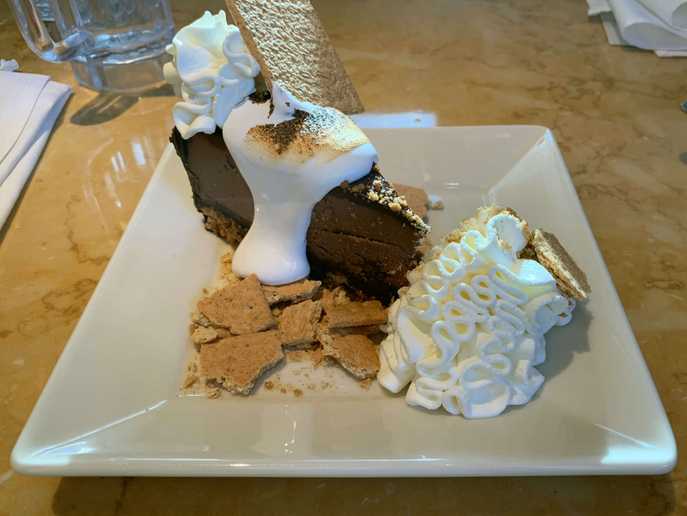 Cheesecake Factory bakes up a delightful s'mores cheesecake—a fancy treat for both the eyes and taste buds. It is loaded with chocolate and finished with touches of graham cracker and toasted marshmallow.
The experience
There are quite a few elements to this dessert, so let me list them from bottom to top:
Graham cracker crust
Hershey's milk chocolate-flavored cheesecake
Covered in chocolate ganache with embedded bits of graham crackers
An oozy marshmallow fluff-like sauce toasted with a blowtorch
Vanilla whipped cream
Honey Maid graham cracker stabbed into the top and crumbled violently all over the plate
Layer of drool (from me mouth-breathing on it in anticipation)
It is all an amazing work of art, especially before the drool.
Strengths: beauty, extreme chocolate, and unifying Honey Maid graham crackers
When the server brought out this dish, I admired how much more beautiful it was in person.
I expected for it to come out smashed up like a McDonald's hamburger because a mere plebian like me doesn't deserve any better. But alas, I received a beautiful, Insta-selfie-worthy, extra-fancy dessert that somehow has enough down-to-earth personality to fit in just fine at a bonfire.
The torched marshmallow is fun and adds lots of character and a controlled messiness common to s'mores territory: smooth, oozy, and running down the sides.
The Hershey's and chocolate ganache combine for a rich, extra chocolatey taste, and it is top-notch. It's almost mousse-like. 5 stars. Rejoice, chocolate lovers!
More about the chocolate. The wall of ganache on the back of the slice includes smashed-in graham cracker bits and is a special treat in its own right.
It's fun to sample the individual elements because there are so many of them. Distributing the cheesecake with the loose Honey Maid graham cracker chunks helps summon the magic of s'mores, giving it the crunchy, gooey texture of the original treat. I didn't figure that out until 775 calories through (aka halfway), but hey, this dessert is an adventure.
Weakness: chocolate drowns out marshmallow
The chocolate volume is turned up to 11 on this one.
I mostly had to eat the various elements separately/intentionally to get the "full" s'mores experience. Overall, it wasn't very integrated except when mixing in graham cracker pieces as described above.
I could barely taste the toasted marshmallow in combination with the other elements, however. Fortunately, the whipped cream teams up to bring in some vanilla goodness.
Suggestion box for The Cheesecake Factory
For more balance in the s'mores, maybe The Cheesecake Factory could change this to be a layered cheesecake to better balance the flavors. Instead of only Hershey's chocolate cheesecake, what if it were instead layered with of marshmallow- and Hershey's-flavors?
The facts
While we make every effort to provide accurate nutritional and allergen information, we urge you to double-check the product packaging or manufacturer's website before purchase and consumption.
Get s'more reviews like this one in your inbox
You can unsubscribe anytime. We won't share or sell your contact information. Privacy policy